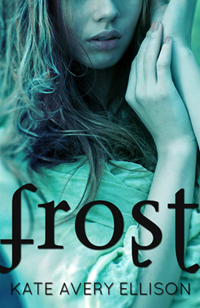 Frost by Kate Avery Ellison
Publication
: April 18, 2012
In the icy, monster-plagued world of the Frost, one wrong move and a person could end up dead—and Lia Weaver knows this better than anyone. After monsters kill her parents, she must keep the family farm running despite the freezing cold and threat of monster attacks or risk losing her siblings to reassignment by the village Elders. With dangers on all sides and failure just one wrong step away, she can't afford to let her emotions lead her astray. So when her sister finds a fugitive bleeding to death in the forest—a young stranger named Gabe—Lia surprises herself and does the unthinkable.

She saves his life.

Giving shelter to the fugitive could get her in trouble. The Elders have always described the advanced society of people beyond the Frost, the "Farthers," as ruthless and cruel. But Lia is startled to find that Gabe is empathetic and intelligent…and handsome. She might even be falling in love with him.

But time is running out. The monsters from the forest circle the farm at night. The village leader is starting to ask questions. Farther soldiers are searching for Gabe. Lia must locate a secret organization called the Thorns to help Gabe escape to safety, but every move she makes puts her in more danger.

Is compassion—and love—worth the risk?
A Splash Review
Frost by Kate Avery Ellison is one of the most stunningly and vividly written young adult novels, that I've personally read in a while. With every flourish of her pen, she writes with such imaginative personality. The world of the Frost is a terrifying monster filled icey frigid place, with gorgeous scenery and very real threats of dangerous attacks. It's intriguing lyrical prose will pull you into the story that Kate Avery Ellison magically weaves and ensare you in its web holding you there until the last page has been turned.

Kate delivers a bright young daring herione, who isn't afraid to the unthinkable and defy the rules by taking in a young fugitive found bleeding to death in the forest by her sister. Gabe is anything, but a "Farther". He's kind, caring, empathetic, intelligent, and incredibly handsome. Lia soon finds herself attracted to him and quite possibly falling in love with Gabe, as the two grow closer. There is so much compassion and love exchanged between the two, that their romance is breath taking and beautiful. They are both in danger and it seems as though time is slipping through their hands as grains of sand slip through an hourglass. There's only so much time before the "Farther" soilders find him, the villiage Elder's figure out that Lia's been harboring a fugitive all this time, it's as if she's racing against the clock to get him to a secret orginzation called the Thorns who can help him.

The dystopian world that Kate Avery Ellison has created is hauntingly beguiling and indescribably melancholy. This stark dreary world is brimming with chaos and danger, twisting around every corner, that will definitely find you on the edge of your seats. It is a novel that many fans of dark dystopia is sure to enjoy.


a Rafflecopter giveaway
Follow The Tour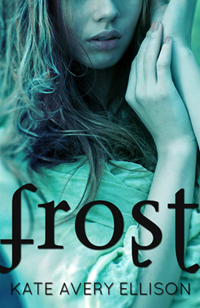 ABOUT KATE AVERY ELLISON

Blog || Twitter || Goodreads

KATE AVERY ELLISON been making up stories since she was five years old, and now is thrilled to be able to do it as a full-time job. She an obsession with dark fantasy, dystopian futures, and Pride and Prejudice-style love stories full of witty banter and sizzling, unspoken feelings. She lives with her geeky husband and their two bad cats in Atlanta, GA.

Her most recent book, a creepy YA fantasy with dystopian elements called Frost (The Frost Chronicles #1), released April 2012.

Author information taken from her Goodreads.
Giveaway graphic by Parajunkee Designs