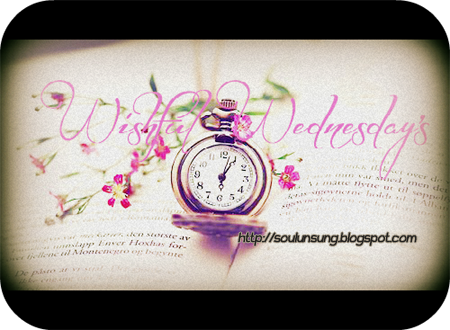 Wishful Wednesday was inspired by Waiting on Wednesday and Desperately Wanting Wednesday by Breaking The Spine and Parajunkee.
Wishful Wesnesday is my own little version of "Waiting On Wednesday". Every two weeks, I'll pick a topic or genre and list a few upcoming books (or book) that I'm anticipating the release for. This week, I'm going to be "spotlighting" Gennifer Albin's debut release, Crewel. It's the first novel in a new dystopian trilogy, that's sort of reminicent of The Handmaid's Tale and the television show, Mad Men. It looks like it's going to be an intriguing and unique world, that I can't wait to slip into and explore!

Feel free to join in, grab the banner, and/or share your WoW or Desperately Wanting Wednesday lists with me.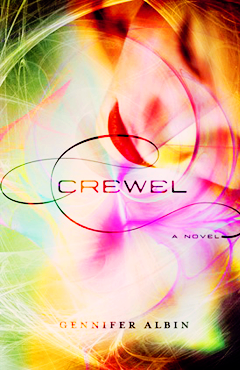 Crewel
by Gennifer Albin
Publisher: Farrar, Straus, & Giroux (BYR)
Expected Publication: October 16, 2012
Pages: 368
Age Demographic: YA Dystopian
amazon | b&n


Incapable. Awkward. Artless.

That's what the other girls whisper behind her back. But sixteen year-old Adelice Lewys has a secret: she wants to fail.

Gifted with the ability to weave time with matter, she's exactly what the Guild is looking for, and in the world of Arras, being chosen as a Spinster is everything a girl could want. It means privilege, eternal beauty, and being something other than a secretary. It also means the power to embroider the very fabric of life. But if controlling what people eat, where they live and how many children they have is the price of having it all, Adelice isn't interested.

Not that her feelings matter, because she slipped and wove a moment at testing, and they're coming for her—tonight.

Now she has one hour to eat her mom's overcooked pot roast. One hour to listen to her sister's academy gossip and laugh at her Dad's stupid jokes. One hour to pretend everything's okay. And one hour to escape.

Because once you become a Spinster, there's no turning back.

* Summary taken from Goodreads.
Want to pre-order

Crewel by Gennifer Albin?
You can do so by visiting my Amazon Store and adding them to your shopping cart. While you're there, feel free to look around, you might find something else you'll like. I hope you enjoyed the "book spot" for Crewel by Gennifer Albin. If you haven't read this amazing book yet, then I definitely suggest you pre-order a copy for yourself or even for someone else if you think they'll like it.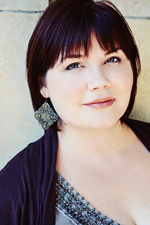 ABOUT GENNIFER ALBIN


Blog || Twitter || Facebook || Goodreads

I like coffee. A lot. Writing gives me time to go get a cup without my kids. I like books as much as I like coffee, but it is easier to read with children hanging on you than drink coffee due to the threat of third degree burns. That's why coffee gets top billing in my intro: its unattainability.

I hold a Masters in English with a specialization in 18th century women's studies. While this is a highly marketable area of expertise, I stay home with my kids, which means my 3 year-old son uses correct grammar and doesn't burn down the house.

I have a ridiculously supportive husband who dreams of being included on a book jacket: "The author lives in Kansas with her husband, two children, and a Tuesday cat."

I'm represented by Mollie Glick of Foundry Literary + Media.

Author information taken from her .
{ This ARC of Crewel by Gennifer Albin was provided by Macmillan, in exchange for an honest review which will be forthcoming on the blog. No has money exchanged hands. I review books for fun simply because I love to read. I am not interested in receiving any monetary gain for my thoughts.}