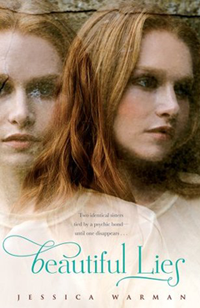 Beautiful Lies by Jessica Warman
Publisher
: Walker Childrens
Published
: August 7, 2012
Pages
: 432
Age Demographic
YA Mystery
Rachel and Alice are an extremely rare kind of identical twins—so identical that even their aunt and uncle, whom they've lived with since their parents passed away, can't tell them apart. But the sisters are connected in a way that goes well beyond their surfaces: when one experiences pain, the other exhibits the exact same signs of distress. So when one twin mysteriously disappears, the other immediately knows something is wrong—especially when she starts experiencing serious physical traumas, despite the fact that nobody has touched her.

As the search commences to find her sister, the twin left behind must rely on their intense bond to uncover the truth. But is there anyone around her she can trust, when everyone could be a suspect? And ultimately, can she even trust herself? Master storyteller Jessica Warman will keep readers guessing when everything they see—and everything they are told—suddenly becomes unreliable in this page-turning literary thriller.
Review for Beautiful Lies
by Jessica Warman
Mysteriously alluring and boldly intriguing, Beautiful Lies is sure to mystify reader's. Exciting and full of suspense, Jessica Warman delivers, yet again, another young adult novel that will keep reader's guessing as they flip the pages. Delving further below the surface of a normal bond shared between identical twins, Beautiful Lies is a gripping runaway mystery full of so many amazing twists and turns. Filled with extreme bouts of emotional trauma and pain that seems to manifest itself physically in ense moments of distress, this story of two twins closer than most is one of the most beautifully written pieces of young adult drama in my personal opinion. Jessica Warman wastes no time doing what she's become best known for, as she weaves a story so personally touching, full of fear and despair, that is sure to ensnare the hearts and attention of many who embark on the journey with these two twins.

Beautiful Lies builds layer upon layer of misplaced trust, unexpected intrigue and mystery, as well as danger filled pages sure to keep reader's captivated and guessing. The devastating sorrow and the fact that this chillingly suspenseful story isn't spun from shiny rainbows and gold dust, makes it all the more terrifying and real. There is heart shattering sorrow born out of overwhelming sacrifice sure to knock the breath out of anyone. The gripping tension filled pages of this amazing novel are well written and can be, on occassion, a little bit confusing to readers. This same confusion seems to run along the thread of a theme developed throughout, Beautiful Lies.

From start to finish it is interesting getting to know both of the twins, experiencing the confusion along with Alice, as she embarks on a journey of self-discovery. Her pain and sorrow is real and manifests itself in the most peculiar way, as she experiences what her twin (Rachel) experiences, and her frantic search and disillusion at trusting just anyone when they could be a suspect. These characters are real and they come to life on the pages, most are enjoyable and likable, while few other's fan be complex and not as likable. If reader's have enjoyed Jessica Warman's prior young adult novels, such as Breathe and Between, they will surely enjoy this one as well. I would recommend this novel to anyone who enjoys true young adult mysteries, as this will stump and mystify them while delivering one interesting unexpected twist at the end.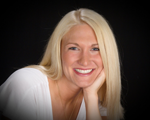 ABOUT JESSICA WARMAN

Website || Twitter || Goodreads

Jessica Warman is the author of Breathless, which received three starred reviews and was an ALA Best Book for Young Adults, and Where the Truth Lies. The idea for Between came from an incident in her childhood, when a local boy went missing after a party on a yacht (he was eventually found, alive).
Author information taken from her Goodreads
.
{ This book was provided by ATW ARC Tours, in exchange for an honest review which I have provided here in this post. No money has exchanged hands, as I review books for fun simply because I love to read and share my thoughts on them with other's. I am not interested in receiving any monetary gain at all for my thoughts.}