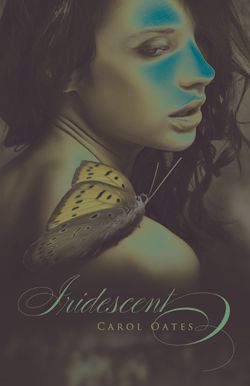 Iridescent (Ember #2)
Author: Carol Oats
Expected Publication: October 2012
Website || Twitter | Facebook | Goodreads
Candra Ember used to dream of saving the world one person at a time. She never expected to become an angelic weapon and the last hope in the battle against ultimate darkness.

Falling for a Nephilim wasn't part of Sebastian's plan. Distraction is something he can't afford when his rival, Draven, wants what Sebastian has.

Lies, manipulation, and corruption are twisting the lives of the citizens in Acheron. The Arch is missing from Heaven, and a demon is intent on claiming the city. At a time they should be growing closer, grief and paranoia is driving Candra and Sebastian apart.

If the price of restoring the Watchers to Heaven is a human soul, who deserves to be saved?

*Summary taken from Goodreads.
ABOUT: Carol Oats
Carol Oates has never been one to remain still for long. After her mother's mad dash to the hospital through the empty city streets of Dublin, Ireland, Carol made her debut into the world in the early hours of Christmas morning. Since then her pace has not slowed down in the least.

Carol was introduced to the world of supernatural books when, as a child, her family moved to a coastal suburb of north Dublin known as Clontarf; famous as the birthplace of Bram Stoker, the prolific author responsible for breathing life into the legendary story of "Dracula." This stirred in Carol an early passion for reading about all things supernatural. When that passion was combined with a deep interest in the history and folklore of Ireland, as well as an active and vivid imagination, Carol Oates, the author, was born. Carol's love of writing about anything not entirely "human" emerged.
This Cover Reveal was brought to you in part by AToMR Book Tours!!!