NEVER SAY NEVER by Kailin Gow
Published
: August 13, 2012
Publisher
:
theEDGEbooks.com
Age Demographic
: YA Mature/New Adult
What girl wouldn't want to be surrounded by the sexy guys from the hottest teen rock sensation in the country? 18-year-old Never "Neve" Knight, not only is surrounded by the hottest boys to hit the music charts, but she is the band's lead singer. As the band's lead singer and manager, Never formed and shaped the band to where it is today, a band on the rise and on the brink of being signed by a label. As one of the guys, she knew each of the band members since they were all snot-nose ten-year-olds. While her boys were the cutest guys and they would protect her like knights, she couldn't date any one of them and ruin the chance at being signed with the record label of her dreams.

That changes when one of the band members suddenly drops out of the band, and in walks Danny Blue, with his dreamy blue eyes, hot body, and British accent. Suddenly, Never's solid world has turned to mush, and her rule for not dating one of her band members is seriously challenged. Can she keep her head straight and get her band signed with a label without losing her heart?
Book Review for Never Say Never
By Kailin Gow
Kailin Gow is back in action again with a rockin' contemporary sure to set the young adult stage on fire! It's intensely captivating, full of life and love and growth, along with some unexpected curveballs that life throws Never's way. Never Say Never is an emotional rollercoaster ride full of thrills, lots of fun, and a little sexy. It's a wonderfully fun mature young adult romance sure to ignite anyone's world a blaze.

Never is such a wonderfully flawed and realistic character brought to life in such an amazing way that makes it extremely easy to relate to her, to connect with her story, and to enjoy all of her minor flaws. She could be a drama princess with everything handed to her on a silver platter, but that's not at all who she is. She's incredibly determined to get what she wants on her own in her own way and she fights hard to make it happen. She isn't interested in hand-outs from her father. The boys in the band are just as amazing as Never is, too. Luke, Kyle, and Steve are a bit different, which gives them unique appeal of their own and lends depth to the band and story itself. The difference in their personalities, style, and friendship are what makes the band's dymanic such an enjoyable reading experience. Everyone gets their time to shine in Never Say Never and that's pretty amazing because it lends so much personality to the book itself.

The romance just sizzles and pops to life off the pages. It's ridiculously forbidden and sweet hot fun. The chemistry between Danny Blue and Never is electric and it's so much fun to witness the awkward tension between two of them. The feelings that Never is experiencing are all new to her and she can't decide whether to break her cardinal rule of not dating anyone in the band or just go for it with all she has. It's fascinating to watch her navigate through her own personal feelings. Yet here is the one guy who has literally tilted her whole world on its axis and has her practically dangling by a thread. So, what is a girl to do?

The character's are wonderfully entertaining, the storyline is engaging and highly addicting, and the realism is sure to draw reader's like a magnet. Kailin Gow spares no expense in showing off just how amazing her writing chops are with this new mature young adult romance hot off the presses! For those who want a sizzling romance that burns hotter than most, this is the book for you.

Want to purchase Never Say Never by Kailin Gow?
You can do so by visiting my Amazon Store and adding them to your shopping cart. While you're there, feel free to look around, you might find something else you want. I hope you enjoyed the review for Never Say Never. If you haven't read it yet, then I definitely suggest you pick up a copy for yourself or even for someone else, if you think they'll like it.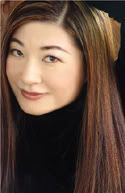 ABOUT KAILIN GOW

Website || Twitter || Facebook || Goodreads

Kailin Gow is the multi-award-winning and bestselling author of over 100 distinct books which includes the Desire Series, PULSE, Wicked Woods, and the Frost Series. She has been professionally published since 2001. She was one of the first authors for young readers to write books for girls with supernatural elements. Her first book series about extraordinary girls guided by an angel in 2001, was a success, selling thousands of print copies in days, and inspiring girl book clubs around the U.S. In 2003, she came out with more series, including The Fairy Rose Chronicles, about fairies in Feyland. Her books have been recommended by PBS Kids, US Mental Health Association, the PTA, and homeschooling associations in the United States.

Her Bitter Frost Series, PULSE Series, and other book series are being developed into MMO Games by SEE GLOBAL ENTERTAINMENT, one of the foremost entertainment developers in the world, known for developing world-reknown blockbuster films into games. The Frost Series and PULSE MMO Games are set to release 2013.

She is a graduate of the Annenberg School for Communications Masters in Management program in journalism, marketing and publishing at the University of Southern California.

Author information taken from her Goodreads.