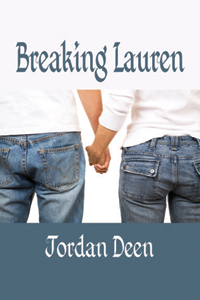 Breaking Lauren by Jordan Deen
Published
: May 24, 2012
Publisher
: Black Rose Writing
Age Demographic
: YA Contemporary
Pages
: 234
Seventeen-year-old Danny Cummings' life is far from a fairytale, but that's okay since he doesn't believe in happy endings. After spending a year in juvenile hall for maliciously beating his sister's boyfriend, Danny embraces his badass image. Spending most nights drinking, fighting and collecting gambling debts for his Uncle, Danny's life is out of control. His addiction to the bad boy lifestyle won't let him do anything about it, even with his family begging him to go straight. But, when fifteen-year-old Lauren McIntosh stumbles into one of his nightly escapades, the self-proclaimed anti-romantic can't concentrate on anything except Lauren and the fact that she's on the same path his sister was on. Danny knows true love happening for the villain is as common as gamblers paying their debt on time, but he's never backed away from a challenge before and he hates the idea that history will repeat itself.

Growing old with the man she loves—in the small town where she was born—is the only dream Lauren McIntosh has ever had; that is until her family is practically run out of town amidst rumors of arson and adultery. So, when she meets Danny at her new school and hears the rumors about his activities from her new friends, she wants nothing to do with him or the gossip that seems to follow Danny everywhere. After a dangerous and ill-fated attempt at sneaking out, she develops unwelcomed feelings for Danny that he seems to reciprocate. But, Danny's unrelenting pursuit makes Lauren nervous, especially since he's the only one that wants to know the secrets surrounding her family's move. Lauren can't tell if Danny's intentions are true or if he has other plans for their newfound and unlikely friendship. The only way to figure out is to let him in and that could destroy everything, including the popularity and social acceptance she desperately seeks.
Author Interview featuring
Jordan Deen
BREAKING LAUREN is your first New Adult book. What makes this book stand apart from your YA work?

First, thank you so much for hosting the BREAKING LAUREN book tour! BREAKING LAUREN is technically a cross-over novel. It was written with the desire to showcase things that are really happening in high schools, but I wanted to amplify the subjects to the point that the reader really becomes emotionally involved. I am known for my paranormal novels, and with BREAKING LAUREN, I wanted to push the envelope and explore my own range as a storyteller.

What was the most difficult part in writing this story?

The hardest part was how much I felt for the characters. Seeing their story unfold in my head and then turning it off when I needed to was the worst! I found myself writing out scenes in the middle of the night because the characters wouldn't stop.

What was the most fun?

Honestly, I loved writing the tension and interaction between the characters. Danny and Lauren are so similar, but have completely different views on the world. Both are skeptical and pessimistic about certain things and totally different on others; it makes their relationship quiet entertaining.

What is your favorite scene in the book?

My favorite scene, by far, is the first kiss between Danny and Lauren. I won't give away any spoilers—but it's great to see both characters acceptance and denial collide.

Is there anything you would like readers to take away after reading the book they may miss that you want to point out?

Many people have commented on the ending of the novel, and I'm sure that will continue. However, this book is about growth, acceptance, self-discovery, and debunking myths that our families impose on us. It's important for me that the reader connects to either Danny's decisions or Lauren's decisions.

You've recently been very busy moving, but writing wise, what is next for you?

I'm thankful to finally be in the home that I feel I'll watch my son go to prom and graduate high school in. (FINGERS FIRMLY CROSSED because he's 7). J We all have dreams, right? Writing wise, I am finishing up FULL MOON - the final in THE CRESCENT series. I am also editing the sequel to BREAKING LAUREN, working title: LOSING LAUREN. I'm always working on at least three projects, so I also have a super secret project going on that I will be posting teasers on my website shortly.
Giveaway!! Giveaway!!
Jordan Deen is generously offering 2 print copies of BREAKING LAUREN and swag. This giveaway is only open to US residents! Good luck and may the odds be ever in your favor!
a Rafflecopter giveaway
For More Stops Along the Tour
ABOUT JORDAN DEEN
Blog || Twitter || Goodreads
I love to meet new people and get teased (a lot) for my knack to make friends anywhere, including but not limited to: the bank, the store, the bathroom, the movies... you get the idea.
A few of my fave things: dogs, quads, my family, camping, and (of course) tattoos.
I'm available on Twitter, Facebook, Myspace and of course, here on Good Reads! I look forward to getting some great recommendations.
And one of the most important things to know about me- I live each day with the moto: Life is about the journey, not the destination.
'Carpe Noctem'
Fun Factoid: 'The Crescent' was originally called 'The Guardian'- any guesses why?
Author information taken from her Goodreads
.
Well, what are you waiting for?! Check this beautifully written ya contemporary romance NOW while it's sizzling hot and waiting to be devoured!!!