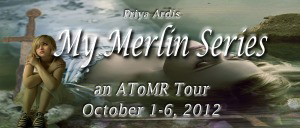 Oh my gosh! I am so super thrilled to be a part of this awesome
MY MERLIN BLOG TOUR

!
I'm totally beyond excited to see into this exciting new take on the lore and fantasy of Arthurian legend and myth with this new and intriguing
MY MERLIN
series by the ultra fabulous
Priya Ardis
.
I am such a geek when it comes to ANYTHING Merlin related, from Disney's The Sword in the Stone to the BBC's own version, Merlin. I delight in all things Camelot, involving Merlin, Morgana, Arthur, Sir Lancelot, etc. The Knights and jousting just get my head spinning like crazy and my blood pumping overtime. The music, the food, and just their way of life is incredibly entertaining just as these books seem to be.
Will Merlin sacrifice hers to save the world?
A young Merlin goes to high school to recruit candidates to pull Excalibur, but finds himself battling his brother for control of the sword and the love of one high school girl.
Favoirte My Boyfriend Merlin Quote:
"Did you recently turn into a jerk or have you been one since birth?
F
avorite My Merlin Awakening Quote:
Vane grabbed me. "DuLac, let's chat."
Chat. British-speak for "Stand still while I yell at you.
AToMR Tours
and
Priya Ardis
are seriously feeding MY fantasy thirst like crazy. I was super excited to get the chance check out these fantastic books and
YOU
will be too, because this epic series is sure to hook
YOU
instantly!
Here's the scoop on the MY MERLIN Series!
There is so much to love about this series as
Priya Ardis
brilliantly blends Arthurian legend and myth, romance, and magic into an enticing adventure that is sure to wow and captivate readers like crazy.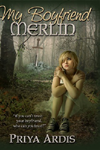 In
MY BOYFRIEND MERLIN
,
he was a little older than he was letting on. By a few eons...

In this modern Arthurian, 17 year-old Boston high schooler Arriane, aka Ryan, DuLac just found out the guy she's been crushing on, hot biker Matt, is a little older than he was letting on. In fact, he is really Merlin—the Merlin, King Arthur's Merlin, the greatest wizard who ever lived. Frozen in a cave for over fifteen hundred years, he's woken for a purpose. But Ryan's not impressed. Tired of being a relationship loser, she'd rather kick his legendary behind.

Sure, the world has been crazy ever since the sword and the stone fell out of the sky like a meteor. But despite gruesome gargoyles, a deadly new world of magic, and the guy driving her crazy, Ryan knows that family is everything. Will Merlin sacrifice hers to save the world? Will she be able to stop him?
If you haven't broken the rules, have you really lived?
In
MY MERLIN AWAKENING
Excalibur has been pulled from the stone, but what does it mean? Arriane (aka Ryan) DuLac's got bigger problems—as student president, she's got to put on the Prom. While the Wizard Council debates their next move, she leaves the craziness behind and heads home. But she can't hide forever. Sooner than she'd like Merlin (aka Matt) has her chasing mermaids on the trail of the Fisher King in Greece. The wounded King, defeated by Merlin's brother, Vane, in the past holds the key to save the future.

On the journey, Ryan begins to realize the friends she thought she knew, she may not know at all. At a time of shifting alliances, she must decide whose side she's on—the brother who struggles to do right or the brother who dares to break the rules? And Ryan must decide who she is—a regular or a champion?

One wrong decision and her family falls apart. One wrong decision and the world falls apart. No pressure.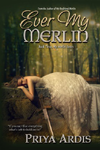 Now in he was the right one, the fated one, but was he right for her?
EVER MY MERLIN
, t
he end of the world. The day of reckoning. The final battle.

In the last chapter of the My Merlin Series, it is a time of great strife for Arriane (aka Ryan) and Merlin (aka Matt) as they struggle to stem the flood of destruction unleashed upon the world. Their only hope rests in the one object that can restore their greatest ally: the Healing Cup.

With every scrap of life hanging in the balance, Ryan must convince both friends and enemies that the key to survival rests in the plans of a sword-toting girl of only eighteen. She must reconcile a fifteen-hundred-year rivalry between two brothers, and be ruthless enough to break a heart—and a life—in the process. And at some point, she really needs to get herself to Prom.
To Purchase these Fabulous Books Visit

:
G I V E A W A Y ! ! !
.details.
2 Winners Book 1&2 Paperback (US) or Book 1&2 eBook (INT)
a Rafflecopter giveaway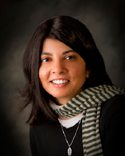 ABOUT PRIYA ARDIS
Blog || Twitter || Facebook || My Merlin Series
Priya Ardis
loves books of all kinds—but especially the gooey ones that make your nose leak and let your latte go cold. Her writing comes from a childhood of playing too much She-Ra and watching too much Spock and reading way too much fairy-tales, fantasies, detective stories, romances... the list goes on. (When Belle gasped at the library the Beast gave her, so did Priya! Color her with library envy.) She started penning her first book at sixteen, writing in long notebooks on train rides in India. A hopeless romantic, She's also a longtime member of RWA (Romance Writer's of America).
If you haven't broken the rules, have you really lived? My Merlin Awakening, Book 2, is coming in Summer 2012! Her YA Arthurian, My Boyfriend Merlin, is available now.
Check Out Other Stops on the My Merlin Tour
Well, what are you waiting for?! Check this series out NOW!!!