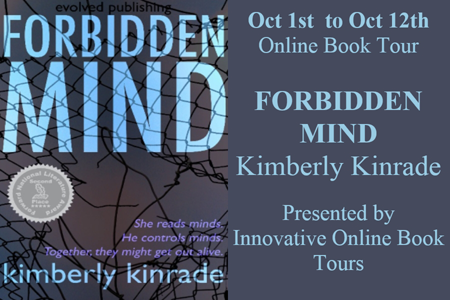 I am so excited to be a part of the super awesome
FORBIDDEN MIND BLOG TOUR
!
When I got the chance to read this intriguing mind-melding mystery, I was totally beyond thrilled and jumped at the chance to get to see what was all about. I mean, come on, who wouldn't?! It's a little bit of Alias (one of my ALL TIME FAVORITE television shows ever!) and Dark Angel like. It's pretty much got a lot of adventure and interesting mystery going on and there's twists and turns around every corner just waiting to jump out at you. It's part of what made reading this book so much fun!
Kimberly Kindrade
definitely brings the suspsense and intrigue full force with this novel. There is so much packed into the pages, that the story just leaps off the pages at you at a dead running start and never stops until the end. The romance will definitely leave you breathless and the world that she builds is incredibly interesting as well as vividly intense and terrying in some aspects. The characters are beautifully developed and the story is strong. It's super edgey and unique, with a flare of originality oozing off the pages.

This is not a book that any paranormal sci-fi fantatic would want to miss out on.

Kimberly Kinrade has generously shared an excerpt from the book to tease and tantalize you guys with. So, definitely check that out!
Will their powers be enough to save them before it's too late?
Here's the scoop on FORBIDDEN MIND by Kimberly Kinrade!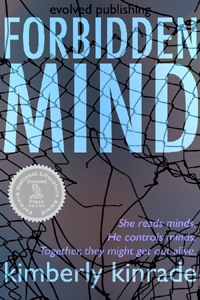 In
FORBIDDEN MIND
, She reads minds. He controls minds. Together, they might get out alive.

Sam thinks she's months away from freedom. After spending her life in a secret school, rented out to the rich and powerful as a paranormal spy, she is ready to head to college like any normal eighteen-year-old.

Only Sam isn't normal. She reads minds. And just before her big going-away party, she links to the mind of a young man who changes everything.

Drake wasn't raised as a 'Rent-A-Kid.' He was kidnapped and taken there by force. But his exceptional physical strength and powers of mind control make him very dangerous, especially to Sam.

When they meet, Sam is forced to face the truth of her situation, and to acknowledge that not all is as it seems in her picture-perfect world. For what awaits her on her eighteenth birthday isn't a trip to college, but an unexpected nightmare from which she may not be able to escape.

To survive, they must work together.

But will their powers be enough to save them before it's too late?
Right now you can get a digital copy of Forbidden Mind for free on Amazon until November 8th. Totally pick this up, because it's so worth the read and it's all of kinds of amazing, interesting, and fun.
Excerpt From Forbidden Mind
Kimberly Kinrade
was born with ink in her veins and magic in her heart. She writes fantasy and paranormal stories for children, YA and adults and still believes in magic worlds. Check out her YA paranormal novels Forbidden Mind and Forbidden Fire and her illustrated children's fantasy chapter books Lexie World, and Bella World, all on Amazon.

She lives with her three little girls who think they're ninja princesses with super powers, her two dogs who think they're humans and her husband, also known as the sexy Russian Prince, who is the love of her life and writing partner.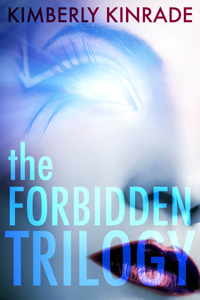 The next tour for
Kimberly Kinrade
is on November 26th, 2012 as a Review Blitz followed by 6 weeks of ongoing tour.

All three Forbidden books plus extra bonus content. November 26th, 2012.

This is its own book, with its own ebook, paperback and eventually hardback. It will include all three forbidden books in it, plus bonus content, interlude scenes between the books and more.
Review Blitz Sign-Up | 6 Week Tour Sign-Up