I am so incredibly
excited

and super thrilled to be a part of the amazingly awesome blog tour for
SHALLOW
by the incredibly talented
Georgia Cates
!
When I got the chance to read this super fantastic paranormal, I was totally beyond thrilled and pretty much flailed all over the place. I mean, come on, who wouldn't?! I've heard so many terrific things about this book and the series. So, I was totally eager to gobble it all up and share my thoughts with you.
I reviewed

Going Under

over

here

come and take a look at it!
Can Payton find that moment of total fearlessness and make the decision to leave the safe, shallow end of love to risk going under completely?
Here's the scoop on SHALLOW by Georgia Cates!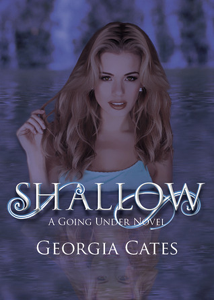 Book: Shallow
Author: Georgia Cates
Published: September 21, 2012
Pages: 261

Payton Archer's best friend, Claire, strives to be perfect in every way. Payton doesn't and this is her story.

Nick Hawke likes his car fast and his girls even faster. He blows through females quicker than his muscle car races down the "The Strip" in Collinsville and he wouldn't have it any other way. Determined to avoid the devastation he has watched his father endure in the aftermath of his mother leaving, he believes there is no room in his life or his heart for a relationship lasting more than one night. He seeks happiness in things that won't let him down...fast cars, adrenaline and one night stands. To his absolute dismay, all of that changes when he unexpectedly runs into an old friend and is introduced to Payton Archer, the first girl he ever wanted for more than one night. There's only one catch...she is completely immune to him and his smooth talking ways.

Payton Archer is looking for what Claire has with Jessie, but she has given up on finding it...at least until she leaves for college in the Fall because she is certain that is where she will find the perfect guy to fit into her perfect world. She plans on Summer being nothing but three uneventful months of fun, but it turns out to be anything but ordinary when Payton is introduced to Nick Hawke, one of Jessie's old Collinsville friends. She is shocked by her immediate and intense attraction for "Hawke" because nothing about him is what Payton is looking for. Sure, he's hot and sexy but he comes from Collinsville and that is definitely not on her list of prerequisites. Everything about him makes Payton's heart speed because he is exciting and dangerous, but his fast car and the dangerous chances he takes aren't what scares Payton the most...it's the way Nick Hawke makes her feel every time he looks at her. Can Payton find that moment of total fearlessness and make the decision to leave the safe, shallow end of love to risk going under completely?
G I V E A W A Y ! ! !
a Rafflecopter giveaway
Visit More Stops on the Going Under Tour
Georgia Cates

a wife, mother of two daughters and a labor and delivery nurse. She has recently added Paranormal Romance Writer to her list of things to keep her busy, but she is ecstatic to release her debut novel, Blood of Anteros, the first book in The Vampire Agápe Series.

Like others that enjoy a great story of paranormal romance, she is easily bored by the tale of an obtainable, ordinary romance and was inspired to create The Vampire Agápe Series. When she is not tied up with her family or delivering babies, she is working feverishly on the second book in The Vampire Agápe Series.
Author information taken from her Website.