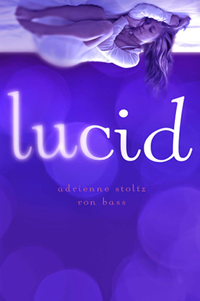 Lucid by Adrienne Stotlz & Ron Bass
Publication: October 2, 2012
Publisher: Razorbill
Age Demographic: YA Contemporary
Pages: 342
What if you could dream your way into a different life? What if you could choose to live that life forever?

Sloane and Maggie have never met. Sloane is a straight-A student with a big and loving family. Maggie lives a glamorously independent life as an up-and-coming actress in New York. The two girls couldn't be more different--except for one thing. They share a secret that they can't tell a soul. At night, they dream that they're each other.

The deeper they're pulled into the promise of their own lives, the more their worlds begin to blur dangerously together. Before long, Sloane and Maggie can no longer tell which life is real and which is just a dream. They realize that eventually they will have to choose one life to wake up to, or risk spiraling into insanity. But that means giving up one world, one love, and one self, forever.

This is a dazzling debut that will steal readers' hearts.

Lucid
is a powerfully emotionally gripping new debut that is sure to tug at readers heart strings and have them aching with the characters.
Stoltz
and
Bass
have really teamed up and written a powerhouse phenomenal new young adult novel, with an interesting twist. It's a beautifully crafted heartbreaking tale, that reaches out and allows readers to feel with the characters and the odds they are facing. It is truly one of the most fascinating reads, that I've had the pleasure of enjoying all year. The transition between the dream worlds, the two girls lives (Maggie and Sloane), and the confusion and mystery were definitely enough to capture my attention.

This dymanic duo, have definitely cultivated a wonderfully engaging, heartbreaking, painful, and confusion mystery that will stun, wow, and captivate anyone. The characters are so well developed, the twist in the story arc is incredibly intriguing, and the massively unexpect cliffhanger at the end make it such an incredible read. It's a wonderfully confusing and distorted way of looking at life from two different sides of the coin. For me, personally, it's rare to find a gem such as this novel that can actually make me feel torn and sympathetic to both dream worlds and both girls, at the same time. In a way, it's magnificently disturbing and beautifully written.

Lucid holds the desires, dreams, and hopes of two girls caught up within each others dream worlds, and trying to decipher which one is real and which one is fake. The alluring thing, when it comes to this book, is the fact that it's so incredibly relatable and brilliantly stunning in the storytelling details that it's hard not to be drawn into its web of conflict, confusion, and chaos. It is probably one of the most unique and original stories, that I've read in quite some time. I wouldn't be so quick to pass this book up, as I would definitely recommend it to anyone who enjoys heartfelt emotionally gripping stories that will pull at their heart. It is definitely worth the read.