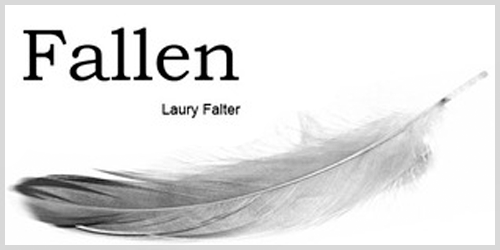 Like your paranormal with a side of mystery, suspense, and a fantastic does of humor all blended together seemlessly?! Then check out Fallen (Gaurdian Trilogy Book 1) by Laury Falter. One of the things this book has going for it, is that it takes place in a private school setting, which is something that I really enjoy reading. I don't know why, but I seem to always gravitate towards books with those types of settings. The supernatural appeal and mystery, is also a big draw in for me. From some of the book reviews that I've seen for this series, it looks like it's going to super intriguing and a world of fun to read.

So, check it out guys!!!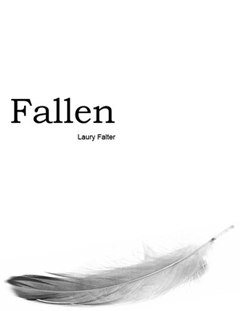 Fallen by Laury Falter
Publication: April 1, 2009
Genre: Paranormal Romance
Age Demographic: Young Adult
Promotional Event: AToMR
Maggie is unaware of the terrifying fate that awaits her. It isn't until she lands in New Orleans for a full year at a private high school and her unknown enemies find her does she realize that her life is in danger.

As a mystifying stranger repeatedly intervenes and blocks the attempts on her life, she begins to learn that there is more to him than his need to protect her and that he may be the key to understanding why her enemies have just now arrived.
TO PURCHASE A COPY OF FALLEN BY LAURY FALTER visit:
Amazon | Barnes&Noble

Book Excerpt from Fallen by Laury Falter
"So you're warning me away from you?" I was appalled. "Then why are you doing this…guarding me at all? Why the torment? Why watch over me when you know that…that we should be more?" I felt on the verge of tears, which amazed me. How could pain be so sharp in the afterlife? "Answer me, Eran. Why?"

He sighed. "Because it is my job."

I gasped, more offended than I'd ever been. "I'm a job to you?" I stared at him and waited for his head to rise but he refused to look at me.

"Yes," he said weakly, defeated. His beautiful, rugged voice released as a whimper and the pain inside me grew. "You are just a job."

I didn't think it was possible but the emptiness I'd felt with Eran being gone those many weeks held no comparison to the magnitude of what I was experiencing right now.

I felt as if I had been gutted.

"No…" I shook my head. "I don't believe you because you see, Eran, I can feel your emotions run through me. Whether you want to admit them or not, I know how you feel about me."

Stunned, his head jerked up, his brilliant blue-green eyes drilling into mine.
"You feel me too? How can that be?"

"I don't know. But I do know that I feel in you the same emotions I have."

He groaned and turned away. "That's not possible…" he muttered, pausing. When he spoke again his voice was strained, determined. I drew in a breath as the intensity of these emotions ran through me. "It doesn't matter. I won't let this happen. This will not happen…I will not let us be together."

"Because you are my guardian? Then let me make it easy on us…You're fired."

"It doesn't work that way, Magdalene," he said, quieter but still resolute.

"I didn't want you to watch over me, Eran. I never asked for it."

As if he'd become an entirely new person, his reply was flat and detached.
"You're a messenger. You require a guardian. It's as simple as that."

"Then we've just solved the issue, didn't we?" I said causing him to finally look up. "This will be my last message. It's from me to you…goodbye Eran."

Turning swiftly, I walked away just before the tears came.

G I V E A W A Y! GIVEAWAY!!! G I V E A W A Y!
1) eBook copy of FALLEN (Guardian Trilogy Book 1) . Open International. eBooks will be gifted from Amazon or Barnes and Noble. If you do not have an e-reader you can download the Kindle app for free to your computer on Amazon.
a Rafflecopter giveaway