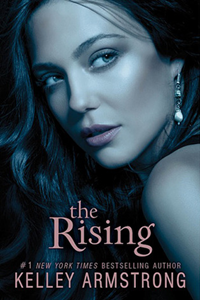 The Rising (Darkness Rising #3)
By Kelley Armstrong
Published: April 2, 2013
Publisher: HarperCollins
Age Demographic: YA Paranormal
Pages: 416
Things are getting desperate for Maya and her friends. Hunted by the powerful St. Clouds and now a rival Cabal as well, they're quickly running out of places to hide. And with the whole world thinking they died in a helicopter crash, it's not like they can just go to the authorities for help.

All they have is the name and number of someone who might be able to give them a few answers. Answers to why they're so valuable, and why their supernatural powers are getting more and more out of control.

But Maya is unprepared for the truths that await her. And now, like it or not, she'll have to face down some demons from her past if she ever hopes to move on with her life. Because Maya can't keep running forever.

Old secrets are revealed and unexpected characters make a surprising return in this stunning conclusion to Kelley Armstrong's New York Times bestselling Darkness Rising trilogy.

The Rising is an incredibly adventurous and exciting conclusion to Kelley Armstrong's Darkness Rising series. It will absolutely stun and wow readers, as they embark on an intriguing, adventure filled journey. Armstrong does a wonderful job of revisiting uncovering old secrets that have been hidden away and the return of unexpected characters that will leave readers feeling like they've just ran into an old friend. It is a whirlwind of emotions that are unexpected and goes from one extreme to the next. Vastly different from the ending of the Darkest Powers trilogy, the way that Armstrong manages to bring both this trilogy and that one together, is incredibly inspiring and uniquely powerful. It works in so many ways, making the conclusion of this story even more amazing.

Kelley Armstrong is simply amazing for bringing back Chloe and Derek and integrating them so flawlessly into the storyline. Their return added so much more depth and layer's to this already compelling and daringly fantastic story. The tension and the drama, was thick and definitely persistent, but it made for such an interesting read. There were unexpected twists and turns, so much plot and character development, and amazing action and danger. Armstrong did such a terrific job of wrapping up things with a completely stunning ending that will definitely have reader's jaws dropping.

The Rising is definitely one of those thrilling conclusions to a trilogy, that will leave reader's breathless and on the edge of their seats. They will want to revisit this world again and again, long after this series is finished. Completely unputodwnable, The Rising, is one off the year's best conclusion to such an epic journey that has wowed and captivated fans of Armstrong's paranormal writing abilities. Fans of the paranormal genre, will definitely not want to miss out on this gem!