Hi Guys! So far we've had an awesome kick-off to this fantastic event, with an interview from

Hilary Weisman Graham

and a totally awesome giveaway for a copy of her book,

Reunited

. If you somehow missed out on that like fun light contemporary reads, then click the link above and it'll take you to where both the interview and the giveaway are on the blog.

Today, we're going to keep the fun alive and going with a fun and interesting interview with

S.C. Stephens

featuring her awesome New Adult series

Thoughtless

. So, stay tuned if you're interested in that. It's one of the many great New Adult contemporary series that I've come across and I would definitely recommend you giving it a try.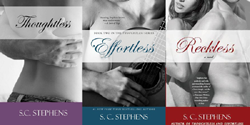 Thoughtless Series
Thoughtless, Effortless, & Reckless
By S.C. Stephens
Published: 06/11/11, 01/08/13 & 03/05/13
Publisher: Self Pub&Gallery Books
Age Demographic: NA Contemporary
Pages: 530, 487, & 544
In Thoughtless, for almost two years now, Kiera's boyfriend, Denny, has been everything she's ever wanted: loving, tender and endlessly devoted to her. When they head off to a new city to start their lives together, Denny at his dream job and Kiera at a top-notch university, everything seems perfect. Then an unforeseen obligation forces the happy couple apart.

Feeling lonely, confused, and in need of comfort, Kiera turns to an unexpected source—a local rock star named Kellan Kyle. At first, he's purely a friend that she can lean on, but as her loneliness grows, so does their relationship. And then one night everything changes...and none of them will ever be the same.

Following Thoughtless in Effortless, after being caught in the middle of a love triangle which led to a devastating betrayal, Kiera pledged to learn from the mistakes she'd made. She was determined to never again inflict that kind of pain on anyone, especially the soulful, talented man who held her heart. But life offers new challenges for every relationship, and when Kiera's love is put to the ultimate test, will it survive? Love is easy . . . trust is hard.

And finally in Reckless, the question is can love survive when life gets Reckless?

When the band hits it big, Kiera and Kellan must ask themselves: Can their love for each other survive the constant pressures of superstardom? The friendships they've formed, the new family they've found, and the history they've forged will all play a part in helping them navigate the turbulent waters of the band's exploding popularity. A greedy executive hell-bent on success, a declining pop star looking for an edge, and a media circus that twists lies into truths are just some of the obstacles the lovers will have to overcome if they are going to remain together. Fame comes with a price-but will it cost Kiera and Kellan everything?
To Purchase the Thoughtless Series visit:

An Eye-Opening Interview With
S.C. Stephens
Was there any other career choice that you might of chosen to work in, if you weren't a writer? If so, what would it be?


I worked in an office as a bookkeeper before I started writing full time, and I really liked that. I'd go back to doing that if I needed to.

Writer's block, every great or aspiring author has had to deal with this at some point in their writing career, is there any tips or techniques that you use to help you with this? If so, could you share them?


I listen to a lot of music, try and find time to do nothing but daydream, and switch stories. If something isn't working for me, I'm okay with shelving it for a while and trying to find a spark with something new. Switching POVs is sometimes helpful as well. It opens up the potential for new storylines.

Was there anything in particular that inspired you to write the Thoughtless series?


It all started around a daydream that I couldn't get out of head. I went home after work and typed out the entire scene, then I started wondering how the characters got there, and I worked my way back to the beginning of the story. It was a lot of fun!

If you had to choose between Denny and Kellan, which one would you choose to be your book boyfriend and why?


Book boyfriend? Kellan, definitely. Actual boyfriend? Hmm, I might choose Denny in that case. As much as I love Kellan with all of my heart, I don't think I could handle dating a rock star. But, then again, I do love going to concerts…

What was the most difficult thing you encountered while writing the Thoughtless series?


I wrote it out of order, and things continuously changed on me as the characters and plotlines developed. I ended up doing a lot of rewriting, which was frustrating.

Do you prefer love triangles or soulmates, when it comes to writing?


Love triangles are fun to write because of the level of angst involved. I'm a sucker for soulmates though too. I've written about both, and have had a lot of fun with both.

What or whom inspired you to become a writer?


I've always had the desire to write. It's something that has been in the back of my head for as long as I can remember. I guess I was just waiting for a good story to tell!

Is there anything new, in the way of novels, that you may have in the works?


I wrote several stories a few years ago that I'll be publishing in the near future. In the fall I'll be releasing my Conversion series.

SOUL BLAST

Ebook or Hardcopy/Paper? Ebooks are nice, but I still prefer paper.

Night or Day? Depends on what I'm doing. I can be a night owl or an early riser.

Chaotic or Organized? Organized! I get stressed when things are too chaotic.

White or Dark Chocolate? White chocolate. Mmmm…

Tea or Coffee? Coffee, all the way.

Black, White, or Gray? Hmmm, probably black.

Dog or Cat? Goldfish? Anything that doesn't require a lot of maintenance. :)

The Walking Dead or The Hunger Games? The Walking Dead

Downton Abbey or Doctor Who? Doctor Who


If you had a spirit animal (can symbolize certain aspects or quality of your personality, skills, traits, or emotion), what do you think it would be and why?


I think it would be a bear. Kind of a loner, a little grouchy, protective of its young, and likes to sleep for long periods of time. Yep. That's a lot like me.

Is there anything else that you would like to mention?


I want to thank all the readers and bloggers for loving my story and sharing it with others. You guys are amazing!!