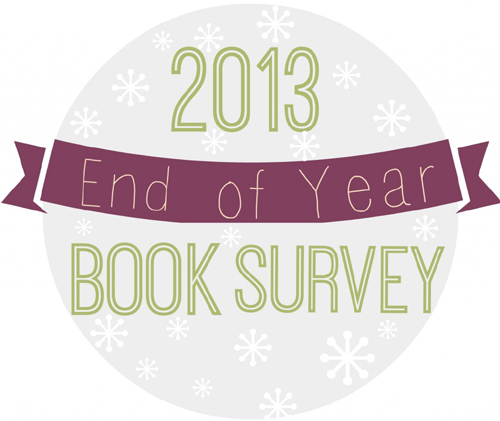 Best In Books 2013 is brought to you in part by
Jamie @ The Perpetual Page Turner
This has been a

FANTASTIC

year in books, fun, and

A LOT

of memories for me! I've read some pretty amazing books (a few flops) and have gotten to meet and get to know some pretty awesome new blogger's/friends. I've really enjoyed getting to take the time to discover who I am in the book blogging community, making some time to read the books that I *want* to read for my own enjoyment and pleasure, and also getting to participate in various blog tours/cover reveals/etc.

Getting to meet

Marie @ Ramblings of a Daydreamer

and getting to know her over the last few months, has definitely been a wonderful bookish highlight this year. In such a short amount of time, I consider her a really sweet friend to have and an amazing author too. If you haven't read

Blue Sky Days

or

Waiting for the Storm

, then you should definitely click on the links and get a copy. They come

highly recommended

from

Molli @ Books & Whimsy

. These books are at the

TOP OF MY 2014 eBOOK TBR PILE

!



My GBYA Girls

are the

VERY BEST BOOKISH THING

that happened to me this year. Seriously. These girls are ah-mazing! They're sweet, fun, sassy, and just full of so much wonder and amusement that I honestly don't know what I do without them or

the blog

we created during the later part of this year. I never told them, but we created it during a time when I really needed something else besides my own book blog to help me get through. Through their friendship and shared love of books, I know that I'll be able to make it through anything as long as I remember to slow down and just take a breath.
Those are just a few of the personal "
bookish things
" that I have to look back on this year, but let's get onto what we're all here for.
THE BOOKS
!
Best Book You Read In 2013? (If you have to cheat — you can break it down by genre if you want or 2013 release vs. backlist)



Contemporary YA

: This one is a no-brainer for me, I'm going with my heart and the many feels I got while reading

Just One Year

by

Gayle Forman

earlier this year. I can't even with this book, because it touched me in so many ways that it was unreal. Beautiful and inspiring, gorgeously written prose, and so full of heartache and soul searching that I wanted to just curl up in a corner and cry because it was such a gorgeous book.

If You Find Me

by

Emily Murdoch

is a *very* close second to this, because there are so many beautifully terrifying realities written in it.



Science Fiction

: Hands down, this would be the epicly amazing and heart rendering beautifully written

These Broken Stars

by

Aime Kaufman

and

Megan Spooner

. Time travel, romance, stars, and oh so much more! How could you not want to pick up this book NOW?!



Fantasy

: My favorite fantasy books that I read this year were,

Crown of Midnight

by

Sarah J. Maas

and

Dark Triump

by

Robin LaFever's

The world building, complex characters, and the sheer fascination of these stories are brilliant and cunningly epic! I implore you to read these books,

NOW

!
Paranormal

: The young adult market is rife with

so many

paranormal books filled with some awesome stories to tell and a few hit and misses along the way. This year, I tried to branch out, by balancing my paranormal reads with other ya books from various genre's. The one paranormal book that stood out to me the most and really captured my attention was

Born of Illusion

by

Teri Brown

. Once I started reading this book, I absolutely could not put it down and I fell madly in love with the characters, the setting, and the whole illusion of it. This book gave me everything that I was looking for, from paranormal to mystery to historical. I am highly anticipating the release of

Born of Deception

(the sophomore novel in the series) and the accompanying novella,

Born of Corruption

coming out next year.



YA Novella's

: I've read a smattering of novella's in the last couple of months that have been really good and these are just a few of the ones that I've really loved. (Cheating I know, but hey...)

The Bane Chronicles

by

Cassandra Clare

,

Sarah Rees Brennan

, and

Maureen Johnson

. I was so legit excited when I found out in the beginning of the year that there were going to be novella's released based on my favorite character from

The Mortal Instruments

series, Magnus Bane. I love how flashy, dramatic, and cheeky he is! There's two more soon-to-be released novella's in this ten short stories collection and I'm

DYING

for them to hurry up, so I can read them

NOW

! I've also really enjoyed

Night of Cake & Puppets

,

A Desire So Deadly

,

The Moth in the Mirror

, and

Pheonix Overture

(which, feels were broken!).


Book You Were Excited About & Thought You Were Going To Love More But Didn't?

I was excited to read

Eyes to the Ever Sky

by

Katie French

, because I thought the synopsis looked so promising and like something that I would devour instantly. Sadly, it definitely fell short of my expectations.
Most surprising (in a good way!) book of 2013?

I don't usually read a lot of Adult books, because I lean more towards YA and New Adult mostly. But, I was lucky to get to be part of a blog tour for

Deb Caletti's

first adult novel,

He's Gone

, and I totally jumped at the chance because I adore everything that she writes in her YA contemporary awesomeness. It wasn't surprising that I fell in love with this book and became so wrapped up in the story that I could not put it down until I was finished, but it was surprising (in a really good way!) that I could actually find myself really enjoying Adult books for the first time since

V.C. Andrews

captured me heart, spirit, and soul.


Book you read in 2013 that you recommended to people most in 2013?



Born of Illusion

by

Teri Brown

. I can't shut up about this book and how amazingly entrancing it is when you read it. Seriously, this book has

EVERYTHING

there is to offer, that could make you

WANT

to pick it up and read it. And,

Dark Triumph

by

Robin LaFevers

. I cannot stop raving about the

His Fair Assassin

series to anyone who will listen. I've actually been known to accost (not really! lol.) strangers in the local bookstore and practically shove both the books in their hands. lol. Seriously,

READ.THESE.BOOKS.





Best series you discovered in 2013?

*head scratches* Does this have to be a series that was written in 2013?! Because...yeah, that's kinda hard. Hmm...I would

definitely

have to go with the

House of Comarre

series by Kristen Painter. Since I read

He's Gone

by

Deb Caletti

earlier this year, it kind of spurred me on to wanting to read more Adult books and this is a series that I've been wanting to read for a

LONG TIME

and I

finally

decided to pick up the first book in the series and

I FELL IN LOVE

with the world that

Kristen Painter

has created along with all of the characters. I plan on finishing up the series in the new year, at some point.



Favorite new author you discovered in 2013?




Emily Murdoch

. Plain and simple. Her writing is so emotionally beautiful and achingly real, that it's hard not to fall in love with her stories and the characters she creates.

Claire Contreras

, because I love how real, raw, and gritty her stories are wrapped up so interestingly well in a ball of raveled mystery. A few months ago, I read

There Is No Light In Darkness

and really enjoyed the characters and mystery surrounding them. I cannot wait to read the next book, that will definitely come in the New Year. I'm for sure making it a goal to read more New Adult books.
Best book that was out of your comfort zone or was a new genre for you?

All of the Adult books that I have already mentioned, because although they fell in all of the right genre's that I enjoy reading (YA and New Adult wise), they were still Adult books and I usually don't have much luck with them. Since they were from an author that I previously enjoy and a series that I've been wanting to read for a while, I went ahead and took the chance on them, and was

SO.NOT.DISAPPOINTED.




Most thrilling, unputdownable book in 2013?



Born of Illusion

.

Dark Triumph

.

Just One Year

.

If You Find Me

.

These Broken Stars

.

Unravel Me

. (Because, Warner! *heart wibbles*)



Book You Read In 2013 That You Are Most Likely To Re-Read Next Year?





Just One Year
by
Gayle Forman
. Because, Willem's story touched me in so many ways!
Favorite cover of a book you read in 2013?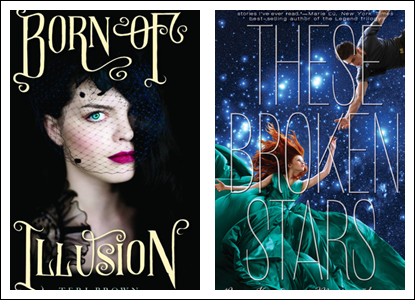 These Broken Stars




Born of Illusion
Most memorable character in 2013?

Sybella from

Dark Triumph

, because I felt for her in such an achingly surprising way that it almost took me off guard.


Most beautifully written book read in 2013?



Unravel Me

mostly because of Warner and the writing.

If You Find Me

and definitely Just One Year.

THESE BROKEN STARS

.



Book that had the greatest impact on you in 2013?




Just One Year

by

Gayle Forman

. I read this duology back to back a few months ago and the companion book just hit home with me in

SO.MANY.WAYS

.

that it was seriously unreal. I can't lie, it kind of hurts my soul a little bit, to know that there are some fellow bloggers/readers out there who really don't like Willem, even after reading his story. His is the

one

that actually moved me beyond the telling, so much more than Allyson.



Book you can't believe you waited UNTIL 2013 to finally read?


The first two books in the

House of Comarre

series by

Kristen Painter

. Why have I

NOT

read this any sooner?! *facepalm* So good.
Favorite Passage/Quote From A Book You Read In 2013?
"Loving someone is such an inherently dangerous act. And yet, love, that's where safety lives."

Just One year

;;

Gayle Forman
Shortest & Longest Book You Read In 2013?



Shortest

:

Night of Cake & Puppets

;; 89 pages


Longest

:

Harry Potter and the Order of the Pheonix

;; 870 pages


Book That Had A Scene In It That Had You Reeling And Dying To Talk To Somebody About It? (a WTF moment, an epic revelation, a steamy kiss, etc. etc.) Be careful of spoilers!

THESE BROKEN STARS. (The wtf feels, man!) Just One Year. (Because, Willem! *hugs him*)



Favorite Relationship From A Book You Read In 2013 (be it romantic, friendship, etc).
I really enjoyed

Cath/Levi

from

Fangirl

. And, this won't surprise you one bit at all,

Tarver and Lilac

from

These Broken Stars

, because really...how could I not?! And, I know that I'm going to catch all kinds of hell for this, but I wouldn't be me at all if I didn't add in

Harry and Hermione

from the

HP

series. Yes, I love them both platonically as friends and also as a romantic couple. I think they would have had a beautiful romantic relationship, if JK Rowling would have only given them the opportunity to flourish on the pages. Unpopular opinion, I don't care, they're my ship and I will always go down with them. Suck it up! :P


Favorite Book You Read in 2013 From An Author You've Read Previously



CLOCKWORK PRINCESS

. This was definitely my

most anticipated

read this year and it absolutely did not let me down in any way. I laughed, I cried, I swooned, I had

SO.MANY.FEELS

that it was unreal. It was the perfect ending to a fantastic trilogy, that I wish there was more to because I want to see what happens next so bad.



Best Book You Read In 2013 That You Read Based SOLELY On A Recommendation From Somebody Else:


Um, can I say my eGalley of

Far From You

by

Tess Sharpe

, because

Molli

recommended that I read it and I absolutely fell in love. I know it's not out yet and won't be until April of next year, but ohmygosh. This book absolutely broke ALL of the feels that I have.
Genre You Read The Most From in 2013?

I want to say that I'm pretty sure it's paranormal romance, but I also made it a point to break out of that this year, by trying to read a lot more dystopia/contemporary/historical and New Adult books as well. I even managed to sneak in a few Adult books too.


Newest fictional crush from a book you read in 2013?



Isaiah.

I fell in love with him all over again in

Crash Into You

. Oh lord, the bookish swoons I got from him!



Best 2013 debut you read?


I read a lot of debuts this year, but the one that comes to my mind right now is

Pivot Point
. I really loved the world building, development of characters, and the writing style in general. I can't wait to read
Split Second
and see what happens next.
Most vivid world/imagery in a book you read in 2013?
I cannot say it enough,

THESE BROKEN STARS

, because it has such a

Whovian/Lost-esque

feel to it. Beautifully written and imagined. Also,

Her Dark Curiosity

, which is another one that hasn't been released yet but I feel in love with the atmosphere and the darkness surrounding it.
Book That Was The Most Fun To Read in 2013?
Fangirl

by

Rainbow Rowell

, because it unleashed the inner fangirl in me and also, the whole entire HP series. Yep! I did it. *

SUCCESS BELONGS TO THE VICTOR!

*
Book That Made You Cry Or Nearly Cry in 2013?
THESE BROKEN STARS. If You Find Me. The Darkest Minds. CLOCKWORK PRINCESS. Just One Year. Oh, and that one HP book where basically

everyone

dies. Oh no, wait...that's pretty much all of them! lol.
Book You Read in 2013 That You Think Got Overlooked This Year Or When It Came Out?
Ink

by

Amanda Sun

. I absolutely fell in love with the mythology of this book, the beautiful writing, and the characters. The atmosphere and culture of Japan, has always been fascinating to me and I wish that this book would have been seen and read a lot more by readers and bloggers than I noticed it being. It was truly, one of my favorite years of the year.