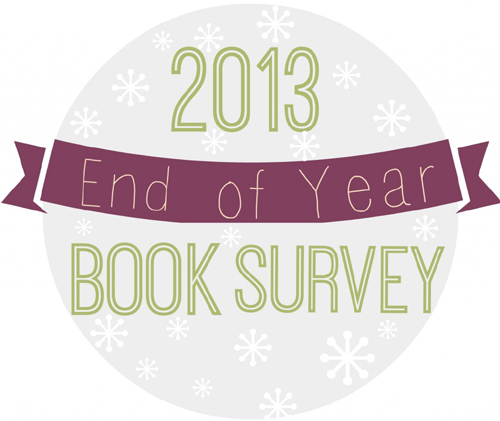 Best In Books 2013 is brought to you in part by
Jamie @ The Perpetual Page Turner
Since this look back at

Best In Books 2013

retrospective is a bit long, I thought I'd break it up into two parts over the next couple of days. It seemed easier to do that, when putting it all together. So, I thought I'd talk a little bit about book blogging and my reading life in 2013, maybe even slip in a few reading goals for 2014.
Book Blogging & My Reading Life in 2013
New favorite book blog you discovered in 2013?



It's not necessarily a new-to-me favorite blog, because I've been following it for a while now, but it's definitely turned into one of my favorite blogs to visit

Ramblings of a Daydreamer

.

Marie

is such an amazing person, with a sweet and encouraging personality and a

WHOLE LOT OF

spunk! I have loved getting to know her better over the last few months and talking with her about books, personal stuff, and just anything in particular. (

HI, DOCTOR WHO NERDS RESIDE HERE!

) If you're not reading her books, then you are missing out. They are at the

TOP

of my

TBR

pile for the new year.

Disquietus

, if you're not following

Angie

then start now! Another brilliant blog with wonderful insight on books, reading, and life in general. (

GBYA Forever!

) And,

Dead Book Darling

.




Favorite review that you wrote in 2013?




Oh man, this is kind of hard! Um, let me think...I really loved and enjoyed reading

Ink

by

Amanda Sun

,

Born of Illusion

by

Teri Brown

, and

Dark Triumph

by

Robin LaFevers.

These were definitely three of my favorite books I read this year and I feel like I really did a good job at capturing the feel of the books overall and why I loved them so much.




Best discussion you had on your blog?




This one goes to

If We Were Having Coffee

post that was inspired by a couple close friends and fellow blogges of mine. I was so proud of this post, because it was more personal and real and just encompassed so much of who I am. I'm actually planning on doing a few more of these throughout the new year. I wish more people would have commented to it, though.




Most thought-provoking review or discussion you read on somebody else's blog?




That would definitely be

Molli's

If We Were Having Coffee

post and also her

Tunes for Pages

feature. They are both so beautifully written, real, and inspiring. I was also incredibly touched when I read

Marie's

If We Were Having Coffee

post. It's such an incredible feeling when you're able to just click and connect with someone right when you think you've had about all the world could hurl at you and then a door opens and BAM! Someone's on the other side of it and it's the most amazing feeling ever and also a little scary, but just super right and fantastic. That's what these two gals are to me!




Best event that you participated in (author signings, festivals, virtual events, memes, etc.)?




One of the best things that I got to do this year, came in the form of an amazing Christmas gift from my sister. I got to go up to the

Pink Pistol

(

Miranda Lambert's

little boutique in Tishamingo, OK) and meet

Dorothy Shackleford

(

Blake Shelton's mom

). She was doing a book signing for a copy of her novel based on the hit song that she and

Blake

wrote together,

Time for Me to Come Home

. My sister surprised me out of the blue with a copy of the book and taking me up there to meet her and just get to visit the store. It was really quite amazing,




The second best thing that happened this year was

Molli

,

Angie

,

Kay

, and I all got together and launched

Growing Beyond YA

. It's an awesomely fierce New Adult geared blog that will showcase reviews, author interviews/giveaways, discussions, and lots of fun other things stemming around the burgeoning category/genre. We're busy at work right now, planning on the re-launch in the coming New Year, so be on the lookout for that. You're really going to like what we have to offer.




Best moment of book blogging/your book life in 2013?




The moment when

Molli

told me that her book

As You Turn Away

was going to

officially

become a book

in 2014

. I cannot begin to tell you how much I am so proud of her and how much success I wish her. She really is an

AH-MAZING

writer with so much

HEART

and

TALENT

bursting through her fingertips. There has never been an author who has moved me beyond the telling, as much as her writing has and I've been around for several years to see some of the beautiful pieces of fiction she has breathed so much life, hopes, dreams, and aspirations into. I haven't gotten to read this book yet, but I have gotten to read a small snippet and let me tell you, from what I read you are going to be amazed. So, if you haven't liked her Facebook page do it now. If you haven't added

AYTA

to your Goodreads TBR, do it now. If you haven't signed up for her cover reveal, do it

here

.




Most Popular Post This Year On Your Blog (whether it be by comments or views)?




I don't know that I actually had one this year, but if we're going on my views alone then I would have to tell you that I wished my

If We Were Having Coffee

would have been.




Post You Wished Got A Little More Love?





Best bookish discover (book related sites, book stores, etc.)?


This little podunck little bookstore in Durant, OK that my sister has discovered. Hopefully, I'll get to check it out when I'm feeling better and I'm not so miserable sick and without a voice. lol.



Did you complete any reading challenges or goals that you had set for yourself at the beginning of this year?




I almost feel a smidge guilty for saying this, but I had to lower my original Goodreads 2013 Reading Challenge goal by five books, because otherwise I would not have been able to make it. Honestly, though, I'm not going to beat myself up over it because given the things that unexpectedly came up this year and other personal things that happened, I feel like I was able to accomplish a pretty good bit of the reading that I wanted to get done. Plus, I was able to branch out a bit more and that makes me happy, too. As for all of the other reading challenges that I had set for myself, I fell short of them completely and I'm working out different strategies to make sure that doesn't happen again in the new year. I was able to keep with a handful of my 2013 goals for the blog, but then of course, fell short with them as well. So, yeah the new year is going to be quite different around here for sure!
Looking Ahead with Future Blogging & Reading Goals for 2014
One Book You Didn't Get To In 2013 But Will Be Your Number 1 Priority in 2014?
This Song Will Save Your Life
by
Leila Sales
. I wanted to read it this year, but never had the chance to get around to it. Both my girls,
Molli
and
Angie
have been raving about how
AH-MAZING
this book really is and how much it touched them. I'm also going to finish reading
Waiting for the Storm
by
Marie
.
Book You Are Most Anticipating For 2014 (non-debut)?
And this is the part where I direct you to
my 2014 anticipated reads
, because there are way too many to name and this isn't the whole list yet.
2014 Debut You Are Most Anticipating?
It isn't any surprise that my
MOST
anticipated debut for 2014 is none other than,
As You Turn Away
by
Molli
. I have been incredibly fortunate to get to know her over the last several years, as such a wonderful person, friend, and now aspired author. To say that I'm incredibly proud of her and this beautiful forthcoming debut novel, would be a complete understatement. (
And
YOU
should be too!
) I'm also looking forward to reading
Cruel Beauty
by
Rosamund Hodge
, because I absolutely adore any retelling of Beauty and the Beast, plus the cover is gorgeous. And, I've totally got my eye on
Prisoner of Night and Fog
by
Anne Blankman
. I'm lucky, I've got an eGalley of this and I will be reading this one pretty soon. Lord, that cover is giving me all kinds of FEELS already!
Series Ending You Are Most Anticipating in 2014?
Ignite Me
by
Tahereh Mafi
!
One Thing You Hope To Accomplish Or Do In Your Reading/Blogging In 2014?
I think the most important thing is to keep things fun, fresh, and exciting on the blog and read books that I *want* to read and not just let myself get over stressed by requesting to many ARC's/eGalley's. Plus, I want to be a little more personable on my blog and open more about myself and the things that I do and don't like, without worrying too much about what other's may think of it or me. And, of course, I just want to have FUN!
Those are some of my goals and reading habits/changes that I'm most excited to experience or change a bit for the new year. What are some of yours? Did this survey, well share with me. Link up in the comments below and I'll come by and check yours out!