I was inspired by

Molli's

beautifully written post, as well as

Jamie's

, so I thought I would cobble together one of my very own and open up a little more about myself. This isn't rehearsed or pre-written, it's just a few of my thoughts strung together to tell you a little bit more about myself and the girl I'm bravely becoming. So, grab a cuppa your favorite tea/coffee/whatever, and pull up a chair. Let's chit-chat for a while and let me tell you, what I would say if we were having coffee.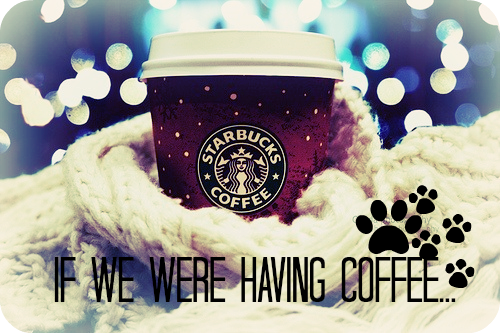 IF WE WERE HAVING COFFEE…
I'd tell you that I miss my Papa everyday more than I can breathe, sometimes. It will be six years in January that he's been gone, but it still feels like it was yesterday.

I would tell you that my biggest fear is thinking he died believing that I didn't love him more than anything in this world. Every day, I live with too many regrets and misplaced bitterness that didn't belong; I struggle with trying to hold onto the good times because there were more bad ones than anything else. I made irrational mistakes, stupid mistakes that can never be changed and I squandered the precious time that I had left with him because I was ungrateful in a lot of ways and ridiculous in more ways than one.
I would tell you that when he got really sick, I got really scared and I didn't honestly know what to do or how to react. I didn't cry like a normal person would, instead I angrier and more bitter as the time slowly passed. It was agony watching him suffer at times I don't even know what was worse, watching him slowly wither away without being able to help him or watching my Meamu watch the love of her life wither before her eyes. I would tell you that my Papa was the

BEST MAN

I ever knew and you would have been lucky to have gotten to know him the way I did. He loved me more than the world itself, even when I made it extremely hard for him to love me and for that I am blessed to have had him in my life for the time he was there. He wanted me when no one else did.
IF WE WERE HAVING COFFEE…
I would tell you that this is a year full of growth in so many ways that it's almost unreal and eye-opening in the most surprising ways. It's hard to explain what this year has really been, but I'm going to try and put it into words. Some of them my own and some of them with the help from a few special fictional characters along the way. So, let me start by telling you what I wished for at the end of last year, the beginning of this year…
Yeah, losing your heart's desire is tragic. But gaining your heart's desire…It's all you can hope for. This year, I wished for love. To immerse myself in someone (thing) else and to wake a heart long afraid to feel. My wish was granted. And if having that is tragic…then give me tragedy. Because, I wouldn't give it back for the world.

Peyton Sawyer ;; One Tree Hill
I would tell you that I did find my heart's desire this year and I did immerse myself in something else to wake a heart long afraid to really feel. I would tell you that I learned how

to be better

and that I decided that I wasn't going to let the irrational bitterness and pain seep in around the edges and threaten to destroy what little progress I have slowly made. I've learned how to be a better friend, granddaughter, daughter, sister, aunt, cousin, and so much more than that by learning how to put aside that which I cannot change and not to worry myself constantly over why it can't be changed. Some things, as are some people, just remain who, what, and the way they are and in spite of all that I just have to love them for it and forget the rest because at the end of the day it really doesn't matter.
I would tell you that I've sought more spiritual clarity than I've ever sought before, in the last year and it has done me a wealth of good. In these last few months, to some, it might not come across that way, but for myself personally – it does and it has made all the difference in how I see things, feel about things, and who I plan on being next year.
And to borrow a few more words from another favorite

fictional character

that's close to my heart, I would also tell you that…
We try to live responsible, logical lives. But we can't tell our hearts how to feel. Sometimes our hearts lead us to places we never thought we wanted to go. And sometimes our hearts can be the sweetest, gentlest things we have. Sometimes our hearts can make us feel miserable, angry, excited and confused. All at once. But at least my heart is open. And I'm writing again. I'm feeling. I'm breathing.

Liz Parker ;; Roswell
IF WE WERE HAVING COFFEE…
I would tell you that I don't have very many personal friends outside of being online and the one best friend that I did have doesn't speak to me anymore. It's been more than three years now, since I've seen or talked to her and I'd be lying if I said I didn't miss her like crazy. She was my best friend, someone I used to spend

A LOT

of time with and had loads of mad crazy fun times. We were similar, but uniquely different in so many colorful ways but that didn't stop us from being really good friends. I considered her family and she did, too. There's eleven almost twelve years of history between us and the deep chasm these last almost three years has put between us, is heartaching. I'm not saying that I was the perfect friend or that I never made any mistakes, but I am saying that I miss her more than anything. I miss knowing that she was always a phone call away when I needed someone to talk to, to laugh with, to make plans with, or to just sit with and watch movies. We watched

A LOT

of movies! Believe me, that's so not an understatement. It's crazy to think how much money we spent on all those tickets or the few times we snuck into movies. lol.
I would tell you that if she were sitting here right now, I would tell her that I miss her and that it doesn't matter what happened almost three years ago because I still love her no matter what and she'll always be family. My door will never be closed to her.
IF WE WERE HAVING COFFEE…
I would tell you that I have some pretty

AH-MAZING

online friends, that have come to mean so much more than just that to me. They're my best friends, my family that I've made for myself and we're a close tight-nit group of friends that would fiercely go to war for one another if it ever came to that. I would tell you that these people are what's real and what is important in my life, right now. They are my solid ground, the people I fall back on when I need a shoulder for support, a hand to hold, a soft squoosh, or someone to tell me what I need to hear even though I may not always want to hear it (

I'm looking at you, M!

). Without them in my life, I don't know what I would do because honestly, they make it so much more fun and worthwhile!
I would tell you that without

Molli

, I wouldn't have had the chance to meet or get to know my GBYA Girls or

Marie

, whom I'm just starting to get to know and already I adore her and love her to pieces. I would tell you, that she is one of the sweetest people and amazingly talented author's that I've ever met and that through both her and Molli, I am living one of my dreams vicariously. I would also tell you, that Molli and I haven't always had it so easy, that when it was bad it really was bad. I would also take another deep breath and tell you, that we both learned that we could

be better

and that by both learning and growing we slowly began to knit our precious friendship back together as beautiful as a shining tapestry of love, support, and kindness.
IF WE WERE HAVING COFFEE…
I would tell you that I am so incredibly proud of the handsome young man my nephew is growing into and how amazingly incredibly stinking cute my niece is and how much I love them both more than anything in this world. I would tell you, that every single time I look at their gorgeous shining faces, that I see the face of my sister and my mom reflected back at me and it makes me even more proud that they are my family and it makes me love them even more fiercely than ever. They are the light and the hope of this world; they are the ones who are going to make a difference in a way that we could never quite achieve.
I would tell you that they are the absolute world's best niece and nephew in this world, hands down. Yep, I'm bias, I cannot lie. :)
IF WE WERE HAVING COFFEE…
I would tell you that I have the best sister in the entire world, right now! And, I am so thankful for her. For most of our lives, we haven't been as close as we should have been, but we're slowly getting there now. It's been a process, a lot of time, hurt, and tears, but all of it was worth it to get to this moment where we can come together and enjoy each other's company. I would tell you, that I am excited beyond all excitement, at getting to spend the whole day next Saturday with her. I can't wait to go up to

The Pink Pistol

as part of my Christmas gift. I would tell you that there will be many pictures to be had and that I'm so excited because Blake Shelton's mother is going to be there promoting and signing her book. I'm excited to get the chance to visit Miranda Lambert's little shop for the first time and I can't wait to pick out a few things, share an old-time soda/malt with my sister and family, and just enjoy the day for what it is and what will have to offer.
IF WE WERE HAVING COFFEE…
I would tell you that I'm thankful for a series of books or a certain author, who has the power to remind me why I love reading so much to begin with. Those are the ones that challenge me in new ways and make me want to aspire to dream the unimaginable. Those are the books that make me want to curl up in a corner and cry because they've touched me to the deepest part in such a profound way that I can't want to put the book down, because I want to experience it again. I want to immerse myself inside the pages and feel what the characters feel, see what they saw, be who they are if only for a moment, so I can absorb what the change is like. So, that I know what it's like to believe with everything in me, to be bursting with so much love and happiness, to know and feel what it's like to be needed and wanted and desired in such a way that you're left stained and un-wanting of anything or anyone else.
I'm not sure it's possible to simultaneously love something and keep it safe. Loving someone is such an inherently dangerous act. And yet, love, that's where safety lives.

Just One Year (Just One Day #2) ;; Gayle Forman
IF WE WERE HAVING COFFEE…
I would tell you that this year has been a hard year for me, there were times when I wanted so badly to give in, to throw in the towel, and just give up. There were moments that scared me more than life and there were moments where I hated the life and death of it all. But, having taken a deep breath, I realize that it's the way things are. There are going to be good moments and there are going to be bad moments, there are going to be sad times and happy times, and there are going to be times when you are afraid. It's okay, all you have to do is just stop, take a deep breath, and remember that they will get better. Believe in a new day, work towards that happiness, don't let it consume you from the inside out and be thankful for the friends and family that you do have to lean on. Just, remember not to lean on them too much, because learning to lean on yourself before you lean on other's is just as important.
IF WE WERE HAVING COFFEE…
I would tell you that I wish I wasn't so invisible in some people's eyes, but that I know that I'll never be able to change them, and all I can do is work on making myself the better person and just learning to accept them as they are and love them even more in spite of that.
IF WE WERE HAVING COFFEE…
I would tell you, you know that thing I talked about earlier, immersing myself in something, well…
I would tell you that I am extremely proud of selling four keychains and one charm bracelet (two different people), that I have made within the last year, actually the last month and a half. A little over a year ago, I got into beading and jewerly making as a hobby, something to keep my mind off of dwelling on things that I can't change and worrying to death over why I can't change them, little did I know how much I would come to love doing it or how good at it I would become. It's a lot of work, time, and cost but I have loved every minute of it. I've made all sorts of things from charm bracelets, necklaces, earrings, bookmarks, purse bling, and keychains as gifts for friends and family. I would probably bore you to death by showing you pictures of all the pretty things that I have made so far and probably offer to make you something, if you wanted. I love making pretty sparkling things for my friends and family, it usually gets me a smile and a nice round of, "Oooh's..." and "Ahhh's."
IF WE WERE HAVING COFFEE…
I would tell you that I love the Fall and Winter time of year. It's absolutely beautiful and filled with so much hope, love, and laughter that it warms me through and through. It's the time for starting over with a clean slate, a time for coming together and being thankful for the things that you do have, a moment for experiencing clarity - for taking in a breath of change and making of it what you will. In a moment you realize, "you can be better" and that "you are worth it" and "good enough to be good enough" and that makes you braver than you'll ever be in your life.
I would tell you, let's not forget about those lost to us this year, gone before their time. Let us always remember them and be thankful for the time that they were in our lives.
I would tell you that I've enjoyed our cup of coffee or tea, how about we get another cup and talk for a little while more?
Five hundred twenty-five thousand six hundred minutes
Five hundred twenty-five thousand moments so dear
Five hundred twenty-five thousand six hundred minutes
How do you measure, measure a year?

In daylights, in sunsets
In midnights, in cups of coffee
In inches, in miles, in laughter, in strife
In five hundred twenty-five thousand six hundred minutes
How do you measure, a year in the life?

How about love?
Seasons of Love ;; RENT
IF WE WERE HAVING COFFEE…WHAT WOULD YOU SAY TO ME?
I invite you to pull up a chair, get a cuppa whatever you would like to drink, and share with me what you would say to me if we were having coffee in a funky little art-deco'd coffee shop tucked out of the way. Feel free to leave your thoughts in the comments below, email me if you feel like they are too personal, or share what you would say to your reader's and friends if you were meeting them for coffee. Until then, I hope you have a beautiful Christmas and a Happy New Year.