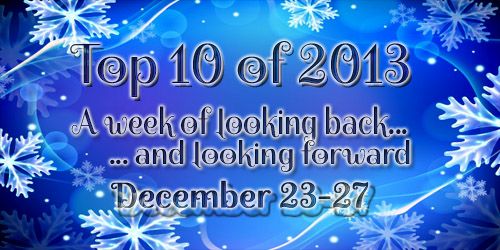 This year, I'm excited and thrilled to share with you, my top best picks from 2013. The wonderful

Rachel @ Fiktshun

is co-hosting this event with two other talented bloggers whom I adore

Jamie @ Two Chicks on Books

and

Mindy @ Magical Urban Fantasy Reads

. It's going to be a week long retrospective look back at all of your Top Ten favorites, as far as books, characters, authors, etc. goes. Basically, just tons of fun!

I know I'm getting off to a little bit of a late start, but I've been busy with celebrating my niece's birthday, getting ready for Christmas with the family, and being sick with a sinus infection from well...you know where. lol. Anyway, I've read a few amazing books, a lot of pretty good ones, and found a few lackluster ones here and there. It was hard putting this list together, because while there were a few that literally jumped out at me, there were also some that I had to decide on whether to keep them or cut them from the list. All in all, I think I put together a pretty darn good list.
So, here's my
Top 10 Favorite Books Read in 2013.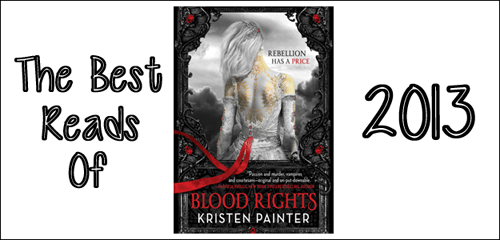 Blood Rights (House of Comarre #1) by Kristen Painter
The cover of this book alone, screamed for me to read it and I was so not disappointed. I instantly fell in love with the world that

Kristen Painter

has created, the idea of the Comarre, and the fantastic story that she's weaved together with all of the unique characters. It's not just vampires, there are so many paranormal and fantasy creatures like werewolves, fae, etc. If you're look to break out of YA Paranormal, then I would definitely suggest this adult paranormal romance series to you. It's the perfect balance of the paranormal world, plot, and romance.
These Broken Stars by Aime Kaufman and Megan Spooner
Clockwork Princess (Infernal Devices #3) by Cassandra Clare
This Strange and Familiar Place by Rachel Carter
Clockwork Princesss was my most anticipated read for this year and it absolutely did not disappoint in any way. I loved everything about it! It made me want another book, just so I could see what was going to happen next.

These Broken Stars

is my favorite book that I read this year and probably the one that ended up

breaking my feels

the most (except for maybe

Just One Year

by

Gayle Forman

). It was just a beautifully written book, with such a gorgeous timeless love story that made your heart break in the most amazing ways.

This Strange and Familiar Place

was one of those books that just made the series even better, it didn't suffer from the sophomore novel syndrome at all and I loved that about it so much. That ending had my head spinning like crazy and anticipating the next book in the series.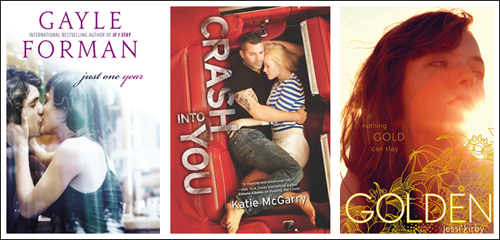 Just One Year (Just One Day #2) by Gayle Forman
Crash Into You (Pushing the Limits #3) by Katie McGarry
Golden by Jessi Kirby
Just One Year

touched me more ways than one book should be able to do. I

t's the kind of book that makes you want to curl up and cry, because it was so beautifully written and wonderfully inspiring.

Crash Into You

sort of crashed into my feels and sort of wrecked them so amazingly, that I had to pick them up and put them back together and

Golden

reminded me of to always choose the road less traveled, because it makes all the difference.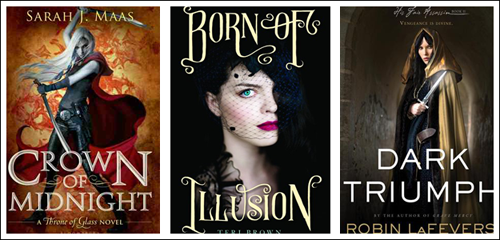 Crown of Midnight (Throne of Glass #2) by Sarah J. Maas
Born of Illusion (Born of Illusion #1) by Teri Brown
Dark Triumph (His Fair Assassin #2) by Robin LaFevers
In the way of fantasy books, I really enjoyed the second installment to the

Throne of Glass

series,

Crown of Midnight

. It was a highly anticipated read that turned out better than I thought it would be and I was pleasantly surprised with it.

Born of Illusion

definitely enchanted me and I cannot wait to read the next book in the series and find out more, the cover is so gorgeous it almost makes me want to cry!

And,

Dark Triumph

was my

FAVORITE

fantasy read this year! I was actually gifted with a gorgeous hardcopy of it from one of my favorite friends,

Angie @ Disquietus.Com

.
So these are my Top 10 Best Reads of 2013, what were yours?! Share your thoughts or posts with me in the comments below, because I want to know. :)