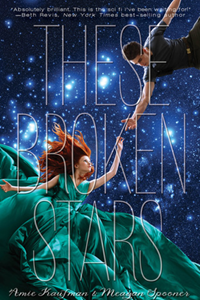 These Broken Stars (Starbound #1)
Aime Kaufman & Megan Spooner
Published: December 10, 2013
Publisher: Disney-Hyperion
Age Demographic: YA Sci-Fi Romance
Pages: 384
It's a night like any other on board the Icarus. Then, catastrophe strikes: the massive luxury spaceliner is yanked out of hyperspace and plummets into the nearest planet. Lilac LaRoux and Tarver Merendsen survive. And they seem to be alone.

Lilac is the daughter of the richest man in the universe. Tarver comes from nothing, a young war hero who learned long ago that girls like Lilac are more trouble than they're worth. But with only each other to rely on, Lilac and Tarver must work together, making a tortuous journey across the eerie, deserted terrain to seek help.

Then, against all odds, Lilac and Tarver find a strange blessing in the tragedy that has thrown them into each other's arms. Without the hope of a future together in their own world, they begin to wonder—would they be better off staying here forever?

Everything changes when they uncover the truth behind the chilling whispers that haunt their every step. Lilac and Tarver may find a way off this planet. But they won't be the same people who landed on it.

A timeless love story, THESE BROKEN STARS sets into motion a sweeping science fiction series of companion novels. The Starbound Trilogy: Three worlds. Three love stories. One enemy.

Note: I received a beautiful finished copy of These Broken Stars from Disney-Hyperion, in exchange for an honest review.
These Broken Stars is a timeless and beautifully written story of romance, adventure, and imagination that will absolutely captivate you from beginning til' end. Incredibly heart stopping, you'll find yourself flying through the pages in no time at all.

Aime Kaufman

and

Megan Spooner

have definitely outdone themselves, with this shining wonder of splendor and beauty. The romance is just as timeless and gorgeous, as the characters and the many adventures they find themselves embarking on are. Readers will find themselves falling for them the instant they are introduced.

Action packed and filled with danger and wonder, These Broken Stars, encapsulates everything that I love about a science fiction book with a timeless romantic twist involved. All of the elements come together so realistically and blend so brilliantly well together, it's hard not to fall in love with the gorgeous world that these two extremely talented authors have created. The adventure and romance between Tarver and Lilac is the best part of the book, in my opinion. I fell madly and gloriously in love with the gorgeous chemistry between the two of them, the sheer intensity of them coming together and building slowly, only to be ripped apart again made it even more incredible, heartaching, and splendidly written well. The world building alone, is absolutely phenomenal! It's rife with danger, filled with amazing action, and heart stopping moments that will have readers on the edge of their seats.

Kaufman and Spooner have done a brilliant job at penning such an originally stunning and gorgeous novel. The complexity of this story alone, is enough to rouse interest and keep you reading until the last page. If you are a fan of science fiction novels such as the amazing

Across the Universe

, then this is the book that you'll want to pick up and read. It is, without a doubt, one of my favorite books that I've read this year.

The characters, the story, the romance...it's everything that I was expecting it to be and so much more.

This is a book that is definitely not to be missed out on.