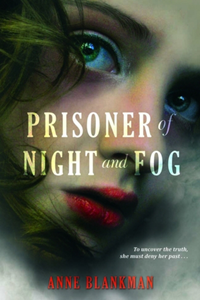 Prisoner of Night and Fog
Anne Blankman
Published
: April 22, 2014
Publisher: Balzer + Bray
Age Demographic: YA Historical Romance
Pages: 416
In 1930s Munich, danger lurks behind dark corners, and secrets are buried deep within the city. But Gretchen Müller, who grew up in the National Socialist Party under the wing of her "uncle" Dolf, has been shielded from that side of society ever since her father traded his life for Dolf's, and Gretchen is his favorite, his pet.

Uncle Dolf is none other than Adolf Hitler.

And Gretchen follows his every command.

Until she meets a fearless and handsome young Jewish reporter named Daniel Cohen. Gretchen should despise Daniel, yet she can't stop herself from listening to his story: that her father, the adored Nazi martyr, was actually murdered by an unknown comrade. She also can't help the fierce attraction brewing between them, despite everything she's been taught to believe about Jews.

As Gretchen investigates the very people she's always considered friends, she must decide where her loyalties lie. Will she choose the safety of her former life as a Nazi darling, or will she dare to dig up the truth—even if it could get her and Daniel killed?

From debut author Anne Blankman comes this harrowing and evocative story about an ordinary girl faced with the extraordinary decision to give up everything she's ever believed . . . and to trust her own heart instead.

Note: I received an eGalley of this for review approved by the publisher's through Netgalley, in exchange for an honest review.


Beautifully written and full of suspense, Prisoner of Night and Fog has everything that a book should have to offer and so much more.

Anne Blankman

pens a stunning debut novel, rife with mystery, romance, and terrifying danger that will leave you breathless and anticipating more. So rich and full of history, one of the most enjoyable aspects of this book, is the way that

Blankman

has managed to take a horrific part of history and woven a story around basic facts so well that it comes together in such an original and unique way. The story being told within these pages encompasses so much love, bravery, challenges loyalties, highlights betrayals in the worst possible light, and instills a faith so strong that nothing can rip it apart.

It's a story of self-discovery, choosing to go with your heart instead of turn a blind eye to the evils around you.

There is a huge moral fiber woven into the tapestry of this beautifully written and darkly rich satisfying debut that readers will not want to miss out on.

Both Gretchen and Daniel are at the very heart of this harrowing tale of murder and suspense.

In many ways, they are the very thing that bring it to life and manage to capture readers attention with so much heart, spirit, and astounding bravery in the face of so many odds stacked against them and their own beliefs.

For Gretchen, it's a matter of growing and coming to understand that what you are told to believe and what your heart tells you to believe are incredibly two different things, that sometimes the journey of following your heart's beliefs is harder than giving into the lie you've been fed almost your entire life. Daniel wants to solve the mystery of Gretchen's father's murder and in doing so, he'll open Gretchen's eyes to the horrors all around her. He'll challenge her to open her mind and actually listen to the message her Uncle Dolf is delivering in his speeches, hear them for what they are, and not see them for what they appear to be among the German Aryans.

I have to admit that when I see a novel based loosely on Adolf Hitler or written around the events surrounding him, I usually find myself bristling at the idea of it. I go immediately to the "bad guy" mentality, instead of realizing the charisma that he possessed and his ability to manipulate those around him to do his bidding or hang on his every word. Blankman does a terrific job of showcasing these qualities about him, presenting him in such a way that he seems more human and terribly flawed, than just another evil man gone spilling hatred and almost wiping out an entire culture of people in history. Watching Gretchen go from admiring her Uncle Dolf, to realizing the horrors of his true nature, was one of the most interesting facets of this novel for me. The horror of a betrayal so devastating and the realization of being so manipulated for years by this man whom she admired and cared for a great deal, was stunning and heartbreaking at best.



The slow progression of the romance developing between Gretchen and Daniel, was just a beautiful and breathtaking, as the bravery that each of them shown throughout the novel.

Two people from two separate worlds come together and become so much more than they could imagine themselves being. It was gorgeous to watch them uncover the cruel and painful details of Gretchen's father's murder and then fight to stay alive, and end up together in each other's arms. Love can be a terrifying beautiful thing, when it's real and full of so much faith as these two came to have in one another.

Prisoner of Night and Fog is a beautifully written, captivating, and engrossing novel that will leave readers tied up in knots, anticipating the next book in the series. The dark and dangerous twists and turns, will keep them on the edge of their seats, until the last page has been read. Anne Blankman is definitely an author to be on the look out for, when you're interested in truly suspenseful book filled with everything it should have.