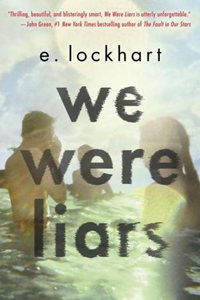 We Were Liars
E. Lockhart
Published: May 13, 2014
Publisher: Delacorte Press
Age Demographic: YA Contemporary
Pages: 240
A beautiful and distinguished family.
A private island.
A brilliant, damaged girl; a passionate, political boy.
A group of four friends—the Liars—whose friendship turns destructive.
A revolution. An accident. A secret.
Lies upon lies.
True love.
The truth.
We Were Liars is a modern, sophisticated suspense novel from National Book Award finalist and Printz Award honoree

E. Lockhart

.
Read it.
And if anyone asks you how it ends, just LIE.

Note: I received an ARC of this book for review approved by the publisher's through
Netgalley
, in exchange for an honest review.
Beautifully horrific and gorgeously written,

We Were Liars

will eat away at your soul, crumple your feels up, and leave them lying tattered on the floor virtually stealing the breath from your very spirit.



From the moment that I sat down to read this gorgeous novel, I was pulled into a broken world

where a family was self-destructing from the inside out, suffering an age-old battle of greed, despair, wealth, broken hearts, social and inward prejudices among their own kind. They were so mired down in their own bitterness and poor choices in judgment that they couldn't even see the outcome the affect would have on their children.

By the end of the book, the unexpected twists in story, and the emotional outcome readers will be left twisted and tied up in knots.



It was easy for me to fall into this novel and become so wrapped up in the tragic heartbreaking story it had to tell. I walked into this one blind and was completely amazed to discover the story revealed within the pages. E. Lockhart has written a harrowing beautiful tale of romance, friendship, and family loyalty that will move readers simply beyond the telling. The writing style, in my humble opinion, is what makes this book so easily readable. Gorgeous descriptive pieces such as "

Bounce, effort, and snark.

" and "

Ambition and strong coffee

" bring the characters to life in a whole new way, letting readers get to know them on a more personal level, lending depth and so much more to the story. Getting to see the world through Cady's eyes in that very personal and intimate way, was as gorgeous as it was terrifyingly heartbreaking.

Lockhart brings the ghosts of the past to life in a way that I've never experienced as a reader before, yet manages to keep everything in the present state of mind. Everything in this richly terrifying world of loyalty, betrayal, and heartbreak takes on a life of its own, including the houses with their many quirks and attributes, seem to be their own characters teeming with the secrets they keep hidden behind their walls. Cuddledown tells the story of a girl, her two cousins, and the boy she loved more than anything. In one summer of self-discovering, putting fragmented memories back together, and discovering what truly happened the fifteenth summer spent on the island, Cady is forced to confront what her mind hasn't been allowing her access to. It is an emotional summer filled with the promise of a new beginning, realizations rearing up from the past, and an epiphany that will stay with her for the rest of her life.

The romance Lockhart brings to this emotional story, is sweet and endearing as it is charming and with faults of its own. Cady and Gat are beautiful and messed up, there are mistakes and inherent flaws that prevent them from ever really knowing one another, and yet they know each other so well in other ways that they make more sense than any book relationship I've read lately. Bound by family loyalty and damned by social acceptance, the two of them try hard to navigate the rocky waters of a summer relationship only to end in the realization that neither really know the other's world truly. On the surface, it may seem as it's unhealthy, but underneath it is innocently right in all of the special ways that it should be.

Faced with familial manipulations and warnings from the other liars, these two are drawn to one another in a way that they simply cannot deny. It doesn't matter how much it hurts, all that matters is how much they feel.



How do you say beautiful in more ways than one, without starting to sound inherently repetitive? Because, this novel, is that and so much more. It has everything that readers should be looking for, mystery, romance, drama, and a compelling story so rich and filled with unexpected twists and turns, that they'll not want to put it down until the last page has been read. E. Lockhart is an author that needs to be added to everyone's buy-list.