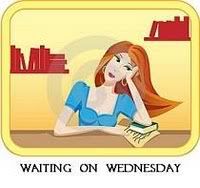 "Waiting On" Wednesday (or ya know WoW!) is a nifty little weekly event, hosted by the ever so lovely Jill at Breaking The Spine that totes puts the spotlight on various new and upcoming book releases that are totally "ohmigod! i gotta have this or i'll just die," eagerly anticipated.

This week's "totally can't wait, gotta have it now" novel for me is the next book in Cassandra Clare's Mortal Instrument's series, City of Fallen Angels. Two things before I go any further.



I've only been like totally DYING for this book to come out FOREVER!

And I want this book so hard, that I've already pre-ordered my special eidition copy with the letter from Jace to Clary included. (Can only get this particular copy from Barnes & Noble.)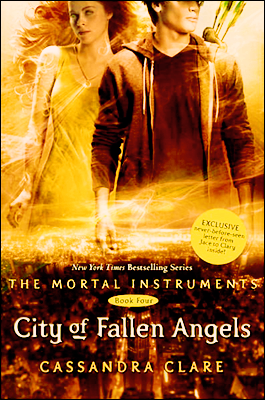 b&n // goodreads Book: City of Fallen Angels Author: Cassandra Clare Hardcover: 432 pages Publisher: Simon & Schuster Children's Publishing Release Date: April 5, 2011 ISBN-10: 1442403543 "Who will be tempted by darkness? Who will fall in love, and who will find their relationship torn apart? And who will betray everything they ever believed in? Love. Blood. Betrayal. Revenge. In the heart-pounding fourth installment of the Mortal Instruments series, the stakes are higher than ever.

It's just a teaser and it's definitely fanmade, I want to stress that a great deal. But, it is also really pretty too, so enjoy.
I think I'm way more excited for this book release, than I probably should be. But, this is a series that easily falls into my top five favorite book series of all time. What's your's? If you have the time and want to share, either blog about it in your own book blogs and leave a comment to the post in my comments so I can visit and see what you had to say and possibly find some new book suggestions or tell me about it in my comments. Either way, this is a book that you'll definitely want to have on your shelves. Seriously. Run, don't walk, to your nearest bookstore or ya know check out Barnes & Noble. You won't be disappointed.