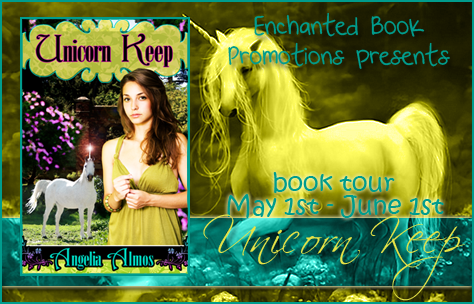 I am super excited to have Angelia Almos on the blog today, sharing a little more information about her recent upcoming release Unicorn Keep and the awesome celebrities that she would pick to portray them in a movie or television series, if her book were to ever be adapted. If you want to know more about her book Unicorn Keep and enter a super awesome giveaway for one of her other books Horse Charmer, you can visit my current post Release Party for Unicorn Keep and Giveaway for Horse Charmer. I hope you enjoy the post, as much as I did putting it together for you!
"Dream Casting for Unicorn Keep: Characters Who Take Charge"
My young adult fantasy, Unicorn Keep, was a lot of fun to write because the characters had such strong voices. It is always so much easier to write a book when the characters take charge.

Unicorn Keep was interesting in that the original idea was for a middle grade fantasy with a single heroine, but as soon as Herrick stepped out of the bushes and onto the page he made it clear that this was also his story and that I had a lot of it wrong.

I dragged my heels for a little while over the idea of altering the premise of the story. You see, I had this plan for Unicorn Keep, I'd been wanting to write a middle grade fantasy for a while and this was supposed to be that story. But after arguing with Herrick that he needed to step back and be a secondary character for a few days, I realized that I just couldn't shut his voice out. He wanted his story to be told and I was going to tell it. I finally gave in and rewrote the opening chapters to make the change from middle grade fantasy to young adult fantasy romance.

Not that Jiline just bowed out. Unicorn Keep had started as her story and it still is very much her story, but she gracefully accepted dual-billing with Herrick. Yet, it is Jiline's journey and her desire to help her best friend that is at the heart of the story.

Though I knew Jiline and Herrick's personalities almost immediately it took a while for me to figure out what they looked like. I was thrilled when the cover was being designed to discover a model who looked just as I pictured Jiline. But even though she is a perfect Jiline, it can still be fun to play with casting the possible movie. I tend to lean toward actual teenagers playing teenagers in movies. If I was to cast the movie Unicorn Keep, I would pick:

Ryan Newman as Jiline || Josh Hutcherson as Herrick
Bitsie Tulloch as Mage Brennan || Zac Efron Voice of Bai
Paige O'Hara as Voice of Gwyn
ABOUT THE AUTHOR: Angelia Almos

Website | Twitter | Facebook

Angelia Almos formed a lifelong passion for horses at the age of five when she talked her parents into riding lessons. Horses often play a prominent role in her young adult fantasy books. She also write horsey nonfiction and space opera. She lives in the Sierra Nevada Mountains with her husband, two daughters, two dogs, two cats, and one pony (she often thinks of bumping that number up to two).
Purchase Unicorn Keep:
Amazon
|
Barnes&Noble