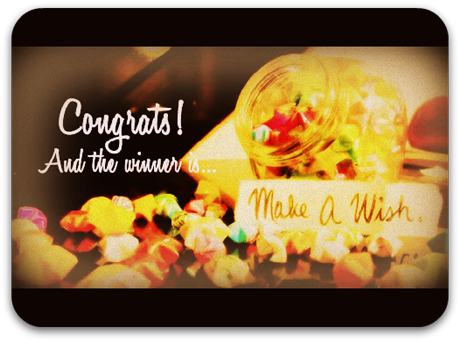 May The Odds Be Ever In Your Favor.
So there's really not exciting drumroll here guys, just a bunch of sure fire winners! Everyone likes that right? Enterining giveaways and getting valuable loot...err books, in this case. I guess it's on with the winning ceremonies, yeah?! :)
Molli @ Once Upon A Prolouge
has won a copy of
Vicious Deep
by Zoraida Cordova
Renae @ Respiring Thoughts
has won a copy of
The Testament of Jessie Lamb
by Jane Rogers
Shae CarCar @ UnderstandShaeStory
has won a copy of
The Summer of No Regrets
by Katherine Grace Bond
Alicia Argenti
has won a copy of
While He Was Away
by Karen Schreck
April
won a copy of
Tempest
by Julie Cross from my
Splash Into Summer Giveaway
Jenny
won my
Sizzlin' Summer Giveaway
and scored an ARC of
Hemlock
by Kathleen Peacock, some signed swag, and a bottle of "purple" Mystical fingernail polish.
All of the winners have been contacted by email and have responded, so they'll be getting their prizes within the next two weeks. Keep an eye out for more awesome giveaways and happenings on the blog!!!
Special Thanks To The Following:
Thank you, HarperCollins, Sourcebooks Fire, and TLC Book Tours for making these giveaways possible.