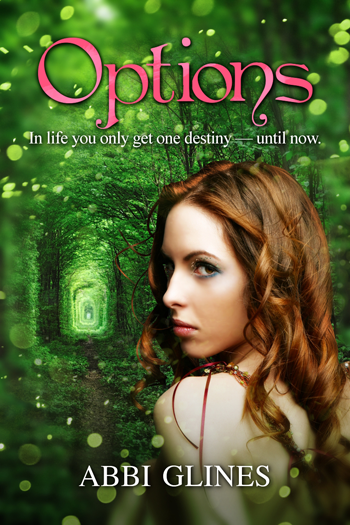 OPTIONS
Author: Abbi Glines
Expected Publication: February 5, 2012
Cover Design by Stephanie Mooney
Website
|
Twitter
|
Facebook
|
Goodreads
Two paths.
Two completely different roads.
Each one standing before me.
Each one holding a different destiny.

In life you're just supposed to choose one path.
In life you're not given the chance at choosing one specific future.

Until now.
Until me.

Why am I different? I don't know. But I'm going to see those roads and walk down each one. When it's over I'll know which one to choose because I'll know my - options.

*Summary taken from Goodreads.
ABOUT: ABBI GLINES
Abbi Glines can be found hanging out with rockstars, taking out her yacht on weekends for a party cruise, sky diving, or surfing in Maui. Okay maybe she needs to keep her imagination focused on her writing only. In the real world, Abbi can be found hauling kids (several who seem to show up that don't belong to her) to all their social events, hiding under the covers with her MacBook in hopes her husband won't catch her watching Buffy on Netflix again, and sneaking off to Barnes and Noble to spend hours lost in the yummy goodness of books.

Her debut novel, BREATHE, can be found in digital format at Barnes and Noble and Amazon. Existence, a YA paranormal, was released December 13, 2011 by Wild Child Publishing. She also released a YA contemporary romance, The Vincent Boys this Fall. She just released her first New Adult contemporary, Because of Low. She is currently editing the second book in the Existence Trilogy, Predestined. If you want to find her then check Twitter first because she has a severe addiction to tweeting @abbiglines. She also blogs regularly but rarely about anything life changing. She also really enjoys talking about herself in third person.
This Cover Reveal was brought to you in part by AToMR Book Blog tours!!!