You guys! I am super duper excited to be a part of the SOUL SISTERS BLOG TOUR! I'm absolutely beyond thrilled to share with you this truly amazing edgey and original debut ya urban fantasySOUL SISTERS.



Here's the scoop on the SOUL SISTERS by the very awesome Janiera Eldridge!
There is so much to love about this series as Janiera brilliantly weaves an enticing and powerfully alluring paranormal novel, with an intriguing twist.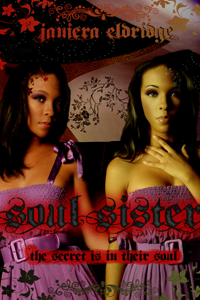 In SOUL SISTERS, African-American twin sisters Ani and Dana who have a rather unique secret: one sister is human while the other is a vampire. While the sisters have lived peacefully with each other for many years one fateful night will change both their lives forever. When a drunken man tries to attack Dana (the human sister) Ani (the vampire sister) protects her sister with all of her ferocious power.

However, when the vampire's leader Donovan finds out about the public display he calls for the sisters to be assassinated for disobedience. Ani and Dana now are in for the fight of their lives to protect each other as well as the lives of their dedicated friends who have joined them on their mission for survival. If Dana and Ani can make it through this time of uncertainty, Ani can take her new place as vampire queen. Soul Sisters is expected to be a trilogy; The book also features a multicultural cast of characters that brings a new edge of chic to the vampire world.

Prizes!!!
A signed paperback
Charmed bookmark
And a signed poster
.a Rafflecopter giveaway

Catch a chilling preview of the danger, romance, and magic that awaits both Ani and Dana in this exciting glimpse ahead for SOUL SISTERS by checking out the awesome book trailer for this amazing new edgey and hip ya urban fantasy!
Make your own slideshow at Animoto.
ABOUT JANIERA ELDRIDGE
Blog || Twitter || Facebook || Pintrest || Goodreads
Janiera
enjoys feeding her  book addiction when she not writing. She is also a book blogger at
Beauty and Books
where she mixes being a book nerd with keeping things chic. When not reading or writing she is freelance writing in the entertainment industry. Soul Sisters is her debut novel.
Author information taken from her her blog
.
Want to purchase Soul Sisters?
Amazon || B&N || CreateSpace || Smashwords
Well, what are you waiting for?! Check this awesome book out NOW!!!
Giveaway Banner provided by the lovely Parajunkee!!!