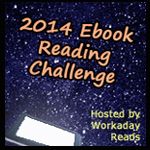 Since my Kindle has become my new bff and I spend most of my reading time using it, I thought this challenge would be perfectly easy for me to handle in the new year. For some reason, I find it a lot easier to read on my Kindle, I don't know if it's because I feel like I'm able to get through a book faster or what, but I have gone from staunchly disliking them in the last three years to loving my eReader more than anything. Plus, I'm not tied down to my computer when I have eGalley's that I need to finish up with and get reviewed. The ease of

Netgalley's

automatically sending whatever galley I have been approved for there straight to my Kindle, makes things a lot more hassle-free.

I've decided that I'm going to start with the DVD level, which consists of 25 eBooks and work my way up the levels from there. I haven't decided what books I'm going to read yet, but I think I'll work on that as I choose to read them. I know there'll be some review galley's thrown in there and some other eBooks that I've been meaning to read that have been on my Kindle for months now, some gifted and some not.
2014 eBook Reading Challenge




DVD Level - 25 eBooks






My 2014 eBook Reading Challenge Goodreads Shelf
Click here to Sign-Up!