In less than a week and a half, one of my best friends and fellow bloggers, will be releasing her debut

New Adult

novel March 1st. I have been blogging and raving about

As You Turn Away

for weeks now. I was lucky enough to get the chance to beta read this before anyone else received ARC's for review and you guys are absolutely not going to want to miss out on this beautiful gem of contemporary romance. To say that I've fallen head over feet in love with this story and the beautiful inspiring characters that

Molli

has created would be a complete understatement. I talk a lot about how beautifully inspiring and amazing they are in

my cover reveal

post that also includes a small excerpt from the book itself. I also mention it as an "honorary debut" that I'm excited for in my top ten tuesday debuts of 2014 that I'm anticipating, as well. I honestly can't say enough good things about this book and if you've missed out on the chance to read an ARC of it, I'm not sure, but I think that you can still make requests for one over at

Molli's Author Blog

. I would jump all over that, if I were you for sure!

If by some crazy reason you haven't had the chance to hear about this stunningly gorgeous novel or haven't seen the beautifully designed cover that another one of my super talented and artistic friends designed for it (

Marie @ Ramblings of a Daydreamer

) then stay tuned, because I'm going to tell you all about it and it's going to be followed with a short interview with

Molli

where we talk about

ALL THE THINGS

and you don't want to miss out on that.
BECAUSE WHO DOESN'T LOVE HOT
SWOON-WORTHY WALKER BOYS?!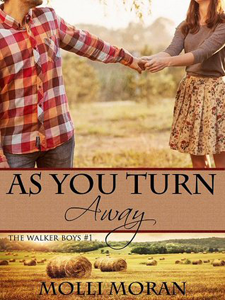 As You Turn Away (The Walker Boys #1)
Author:

Molli Moran
Age Demographic: New Adult
Genre: Contemporary Romance
Self-Published
Release Date: March 1, 2014
When Quinnlan Reynolds left home at 18, she escaped her small, Georgia town and her suffocating upbringing. She started a new life as a ballerina, and tasted freedom for the first time. But four years later, her first visit home turns tragic. Reeling, Quinn tries to piece her life back together again. But doing so is easier said than done when sexy Jonah Walker saunters back into her life.

Quinn shattered Jonah's heart once, so getting involved with her isn't something he's sure he's ready to do again. He became someone he didn't recognize when he left home. He's spent the last years burying his pain by keeping everyone in his life at arm's length. Now he needs to get to know his family again, and finally become who he wants to be.

But neither Quinn or Jonah can stay away from each other, especially when old feelings resurface. Something is pulling them back together, and they can't deny their chemistry for long. One Georgia summer could change both their lives forever, if they can work through their past to have a future together.
Okay, so now that you've been properly introduced to

As You Turn Away

, let's dish with

Molli

about all things author-ish, swoon-worthy Walker boys, and my girl Quinn!
LET'S TALK ABOUT ALL THE THINGS
WITH MOLLI MORAN
Me: Can you tell us a little bit about who you are and what inspired you to become an author?





Molli:

I knew from an early age that I wanted to write, but I've had a lot of stepping stones along the way - people and phases that helped me grow into the author I am today. I think ultimately I always wanted a way to express this NEED I have to tell stories that lift characters up into who they want to become.

As far as who I am, that's always changing, as anyone who's looked at my Twitter bio more than once can tell you. I live in the South, and love it for the most part. I'm an avid reader, daydreamer, and tweeter. I love watching a few favorite shows, and spending time with my favorite people. I love being outdoors, with my pets, or working out in the gym.



Me: How much of yourself did you write into AYTA and how much was a beautiful, touching story that came together organically?





Molli:

I never set out to model myself after any characters or experiences, although I think it's an occupational hazard, that a little bit of yourself leaks into any story. I'd say I poured a lot of love into

AS YOU TURN AWAY

, and I hope if my characters reflect anything about me, it's that - their ability to love, their self-love. Although I started out with a strict outline, at some point the characters just took over, and Jonah and Quinn's story really flowed out of me without rules or plans.



Me: And of course, finally... What was your favorite/least favorite things, while writing AYTA?





Molli:

I think my favorite thing was seeing all the little things come together - this or that falling into place, something a character said early on making sense, and seeing the puzzle pieces click so I could see the big picture. There's a real satisfaction in all that.

My least favorite thing was all the times I cried!

AS YOU TURN AWAY

became such an emotional journey for the characters

AND

me, but it was all very necessary.
See how amazing this girl is?! She's incredibly fantastic and you know what, so is her book! I mean really, I'm not just saying this because she's my best friend or anything, I would be saying this if she was a complete stranger and I had the opportunity to beta a version of this book before it was released to everyone else because holy batman whoa! This book is incredible!!!!

Find out for yourself on

Saturday

,

March 1st

because she's going to be hosting a

Twitter Chat

where she'll be giving away copies of her book and there's going to be tons of other fun things. You just don't want to miss out on this, because I'm even going to make an appearance that day, but you'll just have to tune in to see how that way is going to be because my lips are sealed and I'm totally hush hush!

So, you can find

Molli

all over the blogosphere and the social media networks, go check her out, hit her up to chat, and tell her how excited you are for her book to be released. I know that would totally make her day! Oh, and before I forget...
SOUTHERN SWOONS HAS ALL THE FEELS
FOR THE WALKER BOYS!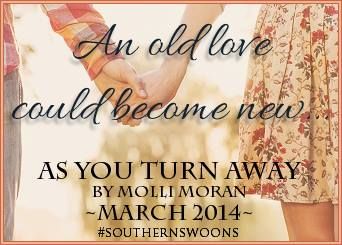 Go join her Facebook Group for Southern Swoons and learn how you can become a part of her
awesome
Street Team like I am. You know I couldn't not!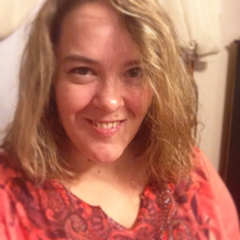 Molli

is a Southern writer who doesn't consider her day complete if she hasn't written. She loves coffee and talking fast, things she attributes to being raised by Gilmore Girls. She's a romantic at heart, and brings that to her books. When not reading or blogging, she can be found obsessing over Doctor Who, cuddling her various pets, or spending time with friends, family, or her girlfriend.
Add As You Turn Away To Goodreads