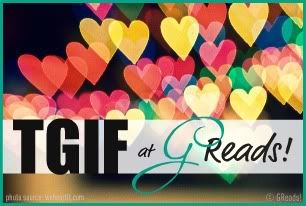 TGIF is an awesome feature created by Ginger at GReads! It's a nifty way to re-cap the week's activity on the blog, see what you might have missed, and play catch up with other blogs by linking up. There's also a question of the week you can choose to participate in if you want. Check it out sometime, you might like it.
FRIDAY'S QUESTION || 03/16/12
Social Networking: Do you use Twitter or Facebook to promote your blog? How has it benefited your book blogging experience? If not, how do you promote your blog? Share your twitter handle and/or Facebook link!
I actually had a Twitter account BEFORE I started my book blog, that I used occassionally. Funny story of how it got its name (endsxtonight), it's actually the name of one of my favorite songs by the All American Rejects - It Ends Tonight. I created my Twitter account during the sixth season of Smallville (one of my favorite original WB shows) and in one of the episodes the All American Rejects were performing It Ends Tonight live at Lex's Halloween party. At the time, Lex and Lana, were one of my biggest OTP's and I was obssessing over them daily. That particular episode, that scene where the All American Rejects were performing that song live, and the ending of it - was quite possibly hands down one of my FAVORITE moments of Smallville ever. So, the Twitter was born, and I haven't looked back sense.

I have had my moments of a long and winding love/hate relationship with Twitter, but I love using it to keep in touch with my friends, fellow bloggers, promoting my book blog, checking in with my favorite author's, and creating more buzz for some pretty amazing books I've read over the last year or so. It's such a great platform for a lot of people to come together and just get to know one another a little better, in an easier, somewhat laid back style. Sometimes it drives me mad that it's only limited to 140 character's, but other times I'm just kind of glad. Who wants to see a crazy 823 word monolouge on their Twitter page when you can just as easily convert that same monolouge into a couple of really great paragraphs to share on your blog.

Twitter keeps me in touch with various happenings that I might have missed on the the blog feeds I follow, alerts me to awesome giveaways, and helps me to keep in touch with amazing author's and publisher's in their world of books. So, yep...I'm a Twitter-feind for sure.

I love new followers with interesting things to say and share, so definitely follow me @endsxtonight.
This week on the blog:
The Watchword: Q&A with Julie Kagawa
Book Review: The Other Life by Susanne Winnacker
Book Review: Embrace by Jessica Shirvington
Top Ten Tuesday: Feautring Anticipated Debuts in 2012
Book Review: Unraveling by Elizabeth Norris
Desperately Wanting Wednesday: Coming Attractions for 2012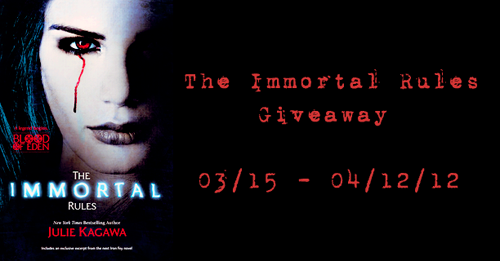 Don't forget to enter my giveaway for THE IMMORTAL RULES by Julie Kagawa. You definitely will not want to miss out on this amazing novel. Just click the banner above to go to the post and fill out the Rafflecopter for a chance to win. You never, you might just get lucky. GOOD LUCK!!! :D :D :D
See what other's had to say.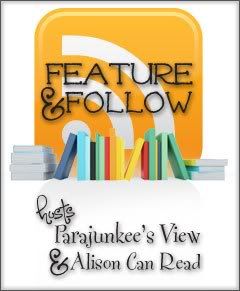 Happy Follow and Feature, everyone! The long and short of it, life is crazy and reading is my life, basically. Go visit Parajunkee's View or Allison Can Read, to get the details on how to follow and have fun with everyone else. It's all about meeting new people, finding new blogs to follow, and basically just having a lot of fun.



This week the two awesome features are Reading With ABC and The Fairytale NerdThese two girls are just as awesomesauce as their blogs, so definitely show them some love! :D




THE QUESTION OF THE WEEK





What is the best book you've read in the last month? What is the worst book you've read in the last month?





I haven't really read a book that I would consider "the worst" book in the last month or so. Most of the books that I've read have been ARC's for review obtained through the publisher or book tour and I've really enjoyed them a great deal. I guess if I had to list a couple of my favorites they would be Embrace by Jessica Shirvington and Struck by Jennifer Bosworth. Both were filled with a lot of actions, emotional turmoil, and new and interesting takes on events/mythology that shows original flare.

To tell the truth, I haven't really read a dud in quite a while.




What's your best/worst read?





❝Hopping Through?!❞